Greek and Roman mythology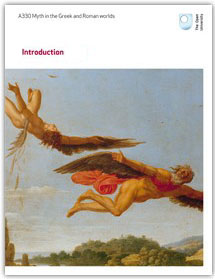 These just are some of many fascinating questions that will be explored in the Open University's new third-level module on Greek and Roman mythology.
Why did the Roman emperor Nero want to dress up as Oedipus?
What has mythology got to do with Greek medicine?
What exactly do the creators of Buffy the Vampire Slayer owe to the first-century CE Roman writer Ovid?
Your work on A330 will introduce you to myths in a wide range of formats, from drama and vase painting to sculpture and poetry. You will look in depth at the social and political functions of myth in the ancient world, and explore mythological themes and characters in the light of some cutting-edge secondary literature. Meanwhile, your work on myths in later cultural contexts will show how the stories of antiquity are constantly being re -made so they remain interesting and relevant in other times and places. Through the mesmerising prism of classical mythology, you will gain knowledge and critical skills that will enrich your future encounters with the past, while being encouraged to formulate your own fresh perspectives on stories that have captivated and challenged audiences for millenia.
Sample study materials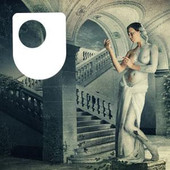 There are four iTunes U albums featuring audio and video materials sent to students on DVD:
These are also available in OU podcasts versions:
Why study myth?
Here are some reasons from the people who devised the module: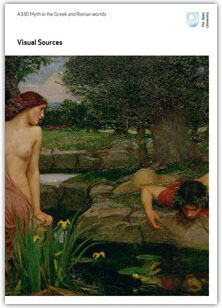 One of the most fascinating things about myth is the way in which it pervaded all aspects of ancient life. These stories and their characters were seen on the stage, at the amphitheatre, on public buildings, in private homes, in mosaics, on wall-paintings, even on lamps, cups and mirrors. Myth was suitable subject-matter in so many contexts and it was accessed by rich and poor alike, and for this reason it provides an exciting and unique access point into the classical world.
Val Hope, module author
Whenever in my teaching and lecturing career I have introduced classical myths in general and Ovid's narratives of transformation in particular, I have found students respond with essential questions about power, justice, hierarchies and human creativity. A module like A330 is a wonderful opportunity to take up in-depth study of all these issues. In Ovid's Metamorphoses, artistic identity is an issue woven into the fabric of a fantastic landscape where myths are theorised as well as being brought to life – interpretation of their function and context is a challenge and a joy.
Paula James, module author
One of the most exciting aspects of A330 is the long assessed essay that comes right at the end of the module. Here students will have the chance to explore in greater depth the themes and material that they have most enjoyed while working through the four main areas of the module. So if someone has been particularly inspired by, say, Greek philosophy, Roman sculpture or medieval poetry, then the assessed essay will give them the opportunity to learn more about it, and to develop their skills in analysing this type of evidence. Hopefully this will mean that every student creates an innovative piece of research they can really be proud of.
Jessica Hughes, module author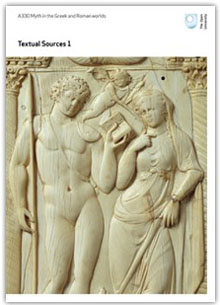 Course team
What can I do to prepare?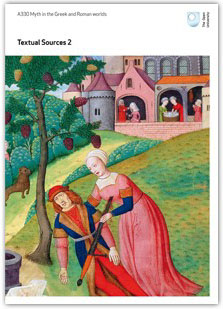 A330 has been structured so that you will have time to work through all the materials during the study period allocated to the module. However, it would be very useful to do some background reading about the classical world before the module begins. While it is not necessary to have any prior knowledge of ancient history before you enrol on A330, your enjoyment of the materials will be enriched if you have a basic familarity with the Graeco-Roman world and its most famous events and inhabitants. There is an enormous range of introductory books on the market, some of which are more reliable and easily digestible than others. The list below contains suggestions of some particularly useful and affordable publications, but read anything that takes your interest and gives you a broader historical context in which to situate the ancient myths and their tellers.
Robert Morkot (2002) The Penguin Historical Atlas of Ancient Greece, London, Penguin.
Chris Scarre (2002) The Penguin Historical Atlas of Ancient Rome, London, Penguin.
Betty Radice (ed.) (1971) The Penguin Who's Who in the Ancient World, Harmondsworth, Penguin.
Robin Osborne (ed.) (2008) The World of Athens: An Introduction to Classical Athenian Culture, Cambridge, Cambridge University Press.
Christopher Kelly (2006) The Roman Empire: A Very Short Introduction, Oxford, Oxford University Press.
Suetonius, The Twelve Caesars (especially the books on Augustus and Nero). Available in various translations, including a Penguin Classics edition, 2007.
Karl Galinsky (2012) Augustus: Introduction to the Life of an Emperor. Cambridge, Cambridge University Press.
Robin Osborne (1998) Archaic and Classical Greek Art, Oxford, Oxford University Press.
Mary Beard and John Henderson (2001) Classical Art: From Greece to Rome, Oxford, Oxford University Press.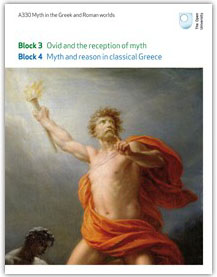 It would also be worthwhile spending some time getting familiar with the classical myths and their basic narrative outlines. Your set books will be very helpful here – feel free to read or browse through them in advance. The theatre is another excellent place to encounter ancient myths, and every year many new versions of classical drama are produced by professional and amateur companies. You might also like to begin a list of mythological works by later artists and writers which have captured your imagination. Most art galleries in the Western world are filled with paintings and sculptures inspired by the classical myths, and if you can't get to these galleries in person you can always explore their websites. Other online resources like the Bridgeman Art Archive are useful – a search using the keyword 'myth' can yield all kinds of unexpected treasures.
Museums and galleries
Searchable online archive
Retellings of myth
Here is a list of some powerful retellings of myths which have been suggested by members of the A330 team. As you work through A330 you will no doubt find your own favourites, and you will be able to share your thoughts about these with your fellow-students in your tutor groups and/or in the online discussion forums.
Films
Joel and Ethan Coen, O Brother, Where Art Thou?
George Cukor, My Fair Lady
Pier Paolo Pasolini, Edipo Re and Medea
Novels/short stories
André Gide, Thésée
E.M. Forster, Story of the Siren
Iris Murdoch, Under the Net
Mary Renault, Fire from Heaven  
Salman Rushdie, The Ground Beneath Her Feet
Plays
Jean Anouilh, Antigone and Eurydice
Peter Schaffer, Equus
Poetry
Ted Hughes, Tales from Ovid
Tom Paulin, The Riot Act
Derek Walcott, Omeros
Painting
Oskar Kokoschka, Prometheus Triptych
Giorgio de Chirico, Ariadne