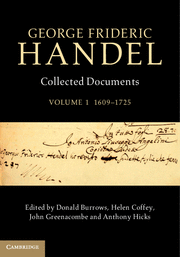 Helen's research interests primarily concern musical patronage in German, Austrian and British cities and courts from the fifteenth to the eighteenth century. She is a member of the OU's Medieval and Early Modern Research Group and Literature and Music Research Group.
Helen has published on various aspects of the employment of civic and court musicians as a reflection of social and political developments. She has a particular interest in the role of music in civic and court rituals, as well as the movement of musicians between institutions across Europe. Her recent research has focused on aspects of musical patronage in the Empire of Maximilian I (1459-1519) and musical life in Germany and Britain c.1650-1750. She was awarded a British Academy Small Research Grant in 2012 to carry out research in Hanover on musical patronage there at the electoral court of King George I. Helen is co-editor of the five-volume work George Frideric Handel: Collected Documents and is a council member of the Handel Institute.
Books
Donald Burrows, Helen Coffey, John Greenacombe, Anthony Hicks (eds.), George Frideric Handel: Collected Documents. To be published in five volumes by Cambridge University Press. Volume I was published in 2013; volume II in 2015.
Articles and Book Chapters
'Opera for the House of Brunswick-Lüneburg: Italian Singers of the Hanover Court' in Claudia Kaufold, Nicole Strohmann, Colin Timms (eds.), Agostino Steffani: Europäischer Komponist und hannoverscher Diplomat der Leibniz-Zeit (Vandenhoeck & Ruprecht, 2017)
'City Life and Music for Secular Entertainment in Maximilian I's Germany (1486-1519)' in Ian Biddle and Kirsten Gibson (eds.), Noise, Audition, Aurality (Routledge, 2017), pp. 171–185
'Music for an Elector and King: the Hanover Hofkapelle during the reigns of George I and II' Händel-Jahrbuch 61 (2015), pp. 135-152
'Wind Instrumentalists in the Churches of Maximilian I's Augsburg' Historic Brass Society Journal 24 (2012), pp. 25-35
'Defining the City "Trumpeter": German Civic Identity and the Employment of Brass Instrumentalists c.1500', Journal of the Royal Musical Association (May 2011), pp. 1-31
'Meetings of City and Court: Music and Ceremony in the Imperial Cities of Maximilian I', Jahrbuch der Oswald von Wolkenstein-Gesellschaft (2008/2009), pp. 261-274
'Musiker zwischen Stadt und Hof. Die Stadtpfeifer der bayerischen Reichsstädte und ihre Arbeitsstätten zur Zeit Maximilians I´ Musik in Bayern 69 (2005), pp. 5-28
Selected Conference Papers
'The House of Brunswick-Lüneburg at the Venetian opera: Musical patronage and representation in the late seventeenth century' Musik und Vergnügen am Hohen Ufer. Fest- und Kulturtransfer von Venedig nach Hannover in der Frühen Neuzeit, Venice, February 2015
'Venetian Musical Influences and Carnival Festivities at the Hanover Court of George I'  Musik und Vergnügen am Hohen Ufer. Fest- und Kulturtransfer von Venedig nach Hannover in der Frühen Neuzeit, Hanover, December 2014
'Musicians for Steffani's Hanover operas: Italian singers and instrumentalists of the Electoral court' Agostino Steffani: Europäischer Komponist und hannoverscher Diplomat der Leibniz-Zeit, Hanover, September 2014
'The repertoire of the Hanover Hofkapelle during the early eighteenth century' Händel und die Musikgeschichte des Hauses Hannover, Halle, June 2014
'Musical patronage at the Hanover court during the early eighteenth century' Handel Institute Conference: Handel at Court, Foundling Museum, London, November 2012