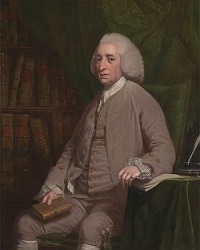 This year marks the three-hundredth anniversary of the birth of the Scottish writer Tobias Smollett (1721–1771). If you are thinking 'Ah! Humphry Clinker!, or perhaps 'who?', then you might like to attend this online conference. With papers on the history of medicine, historical writing, Scottish identity, narrative theory, aesthetics, criticism and book illustration – as well as reflections on the reception and editing of Smollett's work today – the conference promises a snapshot of the 'work of writing' in the mid-eighteenth century.
The conference will be hosted by the Institute for English Studies, online via Zoom, in two sessions on 13 and 14 May 2021. The event is free to attend but you will need to register. For full details about the programme, including paper abstracts and speaker biographies, see the conference website. 
To register, follow the link to the IES booking form.
The conference is supported by the History of Books and Reading (HOBAR) research collaboration based in the Department of English and Creative Writing at The Open University.
Conference organiser: Dr. Richard J. Jones (richard.jones@open.ac.uk), Lecturer in English Literature at The Open University