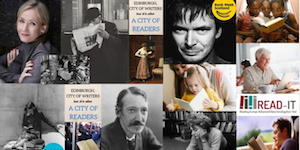 Edinburgh is famous across the world for being a city of writers. Sir Walter Scott, Robert Louis Stevenson, Muriel Spark, Ian Rankin and J.K. Rowling to name just a few, all lived and wrote here. But Edinburgh is also a city of readers.
Join Dr Shafquat Towheed and Dr Sally Blackburn-Daniels from The Open University to find out more about readers in Edinburgh, from the past and the present. There will be public readings (30 minutes), a hands-on, facilitated reading group activity (30 minutes), and the chance to contribute your own experiences of reading. As part of this event, you will also be able to contribute your own experiences of reading in Edinburgh, whether you're a resident or a visitor, via the READ-IT project's public upload portal. So feel free to offer your thoughts about what you've read recently, or share your favourite image of reading with us. Because after all, what are books without readers?
This is a free event, but please register via Eventbrite.