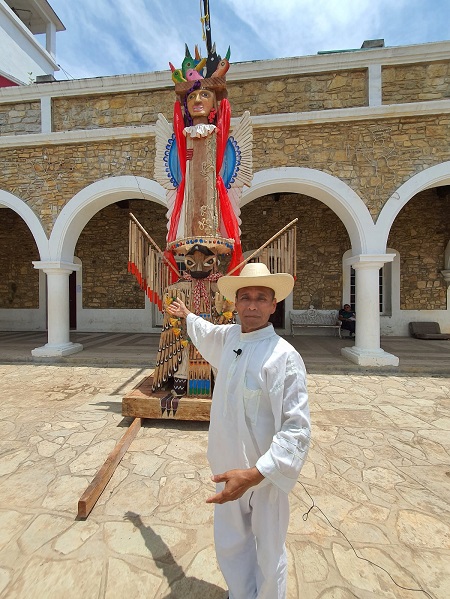 In the lead-up to the 26th UN Climate Change Conference of the Parties (COP26) in Glasgow this November, OU Professor of Religious Studies Graham Harvey has partnered with Border Crossings' ORIGINS Festival to engage with TOTEM LATAMAT. The totem was commissioned by ORIGINS from Indigenous Mexican artist Jun Tiburcio. With close links to Professor Harvey's long-term research into animism, the totem encapsulates Totonac ideas about the environment, represents indigenous cultures, and commemorates extinct species. COVID-19 travel restrictions have limited the opportunities for Indigenous people to participate in COP26, and so the journey of TOTEM LATAMAT - carved from a single tree in Mexico and transported across the Atlantic Ocean to travel from London to Glasgow - is hugely important. With 80% of the world's biodiversity on Indigenous land, these communities truly understand sustainable living. After COP26, the totem will be transported to Dumfries where it will remain at The Crichton to disintegrate naturally.
Discover more about the totem on the ORIGINS website.
Here are the dates and locations you can visit the totem on its journey: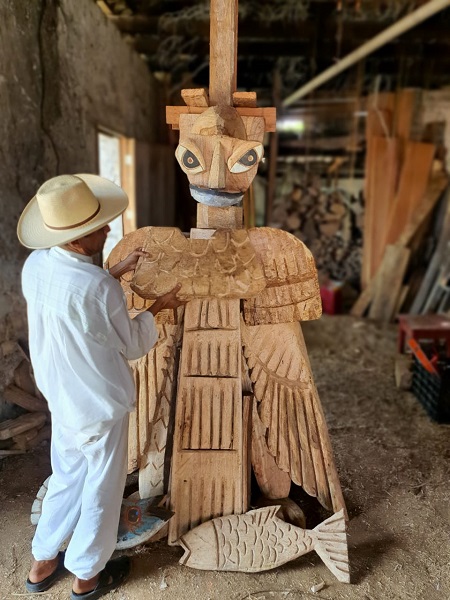 Thursday 30 September – Tuesday 5 October
Chiswick House, Chiswick, London
Tuesday 5 – Monday 11 October
Station Square, Milton Keynes, Buckinghamshire
Monday 11 – Thursday 14 October
Fountain Square, Enfield Town, Middlesex
Thursday 14 – Monday 18 October
Warwick Arts Centre, University of Warwick, Coventry
Monday 18 – Thursday 21 October
The Rollright Stones, Little Rollright, Oxfordshire
Thursday 21 – Sunday 24 October
Manchester Museum, University of Manchester, Manchester
Sunday 24 – Wednesday 27 October
Hexham Abbey, Hexham, Northumberland
Wednesday 27 October – Sunday 14 November
The Hidden Gardens, Glasgow
From Sunday 14 November
The Crichton, Dumfries (Return to Earth ceremony date to be confirmed)
If you can't visit TOTEM LATAMAT in person, you can still learn about the powerful meaning behind it by watching this interview with our Professor of Religious Studies, Graham Harvey, when he welcomed the totem to Milton Keynes earlier this month.