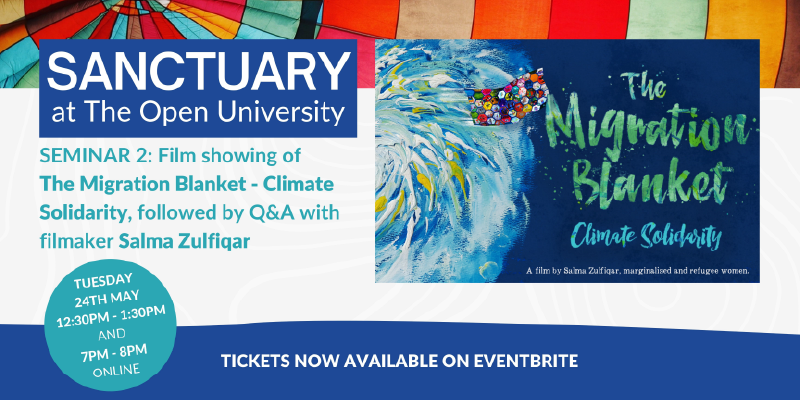 "Our house was destroyed, and we couldn't go to school when the floods came. Climate change destroyed our agricultural land" - Shofika
Shofika, a Rohingya refugee from Bangladesh, is one of the women who contributed to groundbreaking art-film The Migration Blanket, which shows how climate change is destroying women's lives, causing early marriage, preventing access to education, causing hunger and leading to violence against women.
Open University students, staff and guests are invited to watch the 25-minute film and take part in a 30-minute Q&A with the film-maker, award-winning artist and women's rights activist Salma Zulfiqar.
This is the second event in The Open University's seminar series and is part of our work towards becoming a University of Sanctuary, ensuring we create a welcoming and supportive culture for students and staff affected by forced displacement and migration. There will be two online screenings, followed by the Q&A, on Tuesday 24th May 2022. Please book either the afternoon (12:30pm–1:30pm) or evening (7pm–8pm) session. The events will not be recorded.
The Migration Blanket gives vulnerable refugee and marginalised women a voice, empowering them to take climate action. Women in camps, orphanages and other temporary accommodation attended workshops throughout 2021 to produce the artwork for the film. Participating in the project were women from Kenya, Nigeria, Malawi, India, Pakistan, Afghanistan, Bangladesh, Cameroon, Greece, Jordan, South Africa, Sierra Leone, Tanzania, Uganda, UK and Zambia. The film also pays tribute to leading climate activists Greta Thunberg and Vanessa Nakate, while taking note of the Climate Education emergency highlighted by the Malala Fund. The project was inspired by Salma's trailblazing migrant mother, Bano, who died from Covid in 2021.
"This is a powerful film which raises awareness of the urgent action we all need to take together to tackle the climate emergency and help make a positive difference to the lives of some of our sadly isolated and marginalised women in the West Midlands and right across the Commonwealth" - Andy Street, the Mayor of the West Midlands.
The seminars are organised, sponsored and hosted by the Sanctuary at The Open University Working Group, led by Professor Marie Gillespie. If you would like to know more about our work, how to support forced migrants or join OU student group Student Action for Refugees (OSTAR), please contact OUSanctuary@open.ac.uk.