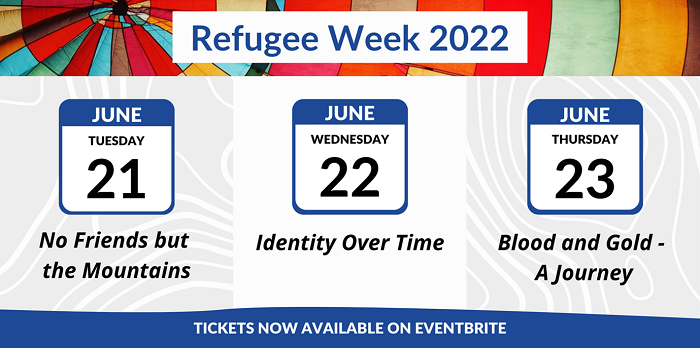 The Sanctuary Working Group at The Open University, in partnership with Covid Chronicles from the Margins, is inviting students, staff and external guests to attend three events taking place during Refugee Week 2022.
In her award-winning show Blood and Gold, which had its debut at the Edinburgh Festival Fringe, Mara Menzies explores migration journeys, weaving tragedy, loss, and trauma in a rich tapestry which tells the story of colonialism, migration, and oppression but also of humanity, love, and healing. This is the third and final event taking place across Refugee Week, which runs from Monday 20 June to Sunday 26 June.
Mara Menzies is an award-winning performance storyteller whose dynamic, colourful style brings this ancient artform to life, drawing on her rich, dual Kenyan/Scottish cultural heritage, to create worlds that explore contemporary issues though legend, myth, and fantasy. She has been invited to share stories in 27 countries with her latest production, Blood and Gold, exploring the legacy of colonialism and slavery through myth, legend, and fantasy. It premiered at the Edinburgh Festival Fringe 2019 as part of the Made in Scotland showcase and was nominated for the Critics' Awards for Theatre in Scotland Award 2020. It was also one of five shows nominated for The Filipa Bragança Award for best emerging solo female performance at the Edinburgh Festival Fringe 2019, receiving rave reviews from top theatre critics.