A live talk event presented by the IF: Milton Keynes International Festival and inspired by the artwork installation Arrivals + Departures.
Hosted by Dr Maria Nita with Dr Elaine Kasket and Yara El-Sherbini.
Live streamed via ifmiltonkeynes.org
This event is presented in association with The Open University, the Festival's Knowledge Partner.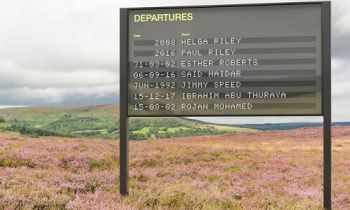 Dr Maria Nita, alongside Dr Elaine Kasket and artist Yara El-Sherbini (Arrivals + Departures) will be in conversation exploring hotly debated ideas and practices concerned with death, dying, afterlife and memorialisation, in our globalised, digital, multifaith society.
They will talk about the growing use of social media platforms as memorial sites, with bereaved family and friends using the internet as a platform for grief and communication with the deceased.
Please join them to reflect about changing rites of passage inside religious traditions, and new rituals and perspectives from the spiritual and the non-religious.
Dr Elaine Kasket is a Counselling Psychologist and Associate Fellow of the British Psychological Society, a writer, keynote speaker and public intellectual. In 2020, she was made an Honorary Professor of Psychology for her body of work on life, death and privacy in the digital age.
Yara El Sherbini is one half of Yara + Davina, the artists who are bringing Arrivals + Departures to the Festival. Unfailingly inventive, they use formats from within popular culture to make works which are accessible and playful. Their issue-based work is wide ranging, from geo-politics to lessons on love, from knowledge production to mental health.
Dr Maria Nita is a Lecturer in Religious Studies, in the Faculty of Arts and Social Sciences at the Open University. Her research interests focus on religion and climate activism, and include cultural theoretical approaches to understanding rituals, with a focus on new protest rituals of death and extinction.
The audience are encouraged to submit questions during the live online event.
This event will be live streamed online via the Festival's website.
The event will run for approximately 1 hour.