Inspiration can often come at the most unlikely times. As the world faced one of the biggest challenges this century with the start of the pandemic in 2020, Psychology student Kathryn Howe discovered her passion.
With life on hold, 31-year-old Kathryn found herself with more spare time on her hands and was inspired to study some free online mini modules in psychology through OpenLearn. Having enjoyed it so much, she decided to look into studying a full Psychology BSc degree with The Open University (OU).
Kathryn, from County Durham, said: "I've always been interested in how people think and why we behave the way we do. I loved the psychology mini modules and decided that I wanted to pursue a full degree in the subject and eventually a career in the field as a forensic psychologist.
"I knew I would have to do it part-time and online, and I had heard so much about the OU online, on TV, and through friends. I had already done my free mini modules with the OU, so I knew the OU was the right place for me to study."
A new beginning
Before joining the OU, Kathryn previously studied a BA (Hons) degree in International Tourism Management, originally wanting to work for the tourism board in her hometown of Blackpool.
She continued: "I didn't do as well in my first degree as I'd hoped, and I'm a bit of a perfectionist, so I was never very proud of my achievement, even though I didn't actually do that bad.
"So, when I realised studying was possible, I was so happy – it meant I could have another chance to prove myself and could actually pursue a career in the field I'm so passionate about, and that thought still excites me today!
"It will open so many doors for me to pursue a career in psychology. It gives me a goal to work towards and gives me hope, motivation and ambition for my future career and financial wellbeing."
Flexible study options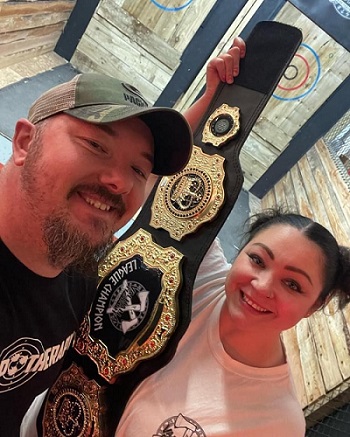 Alongside her studies, Kathryn and her husband, Carl, co-own a business focusing on the sport side of indoor axe throwing, which they set up in 2021. Kathryn also competes internationally and is currently the only female from Europe to qualify for the International Axe Throwing Championships 2023 taking place in Canada in June, so being able to fit her studies around her other work and personal commitments is vital.
Kathryn adds: "I know my husband and my parents are proud, especially of my results! They're always the first people I tell, and they are always so happy for me and proud of my achievements. My husband is extremely supportive of my studies."
Discovering her passion
Before pursuing her studies, Kathryn worked in bid writing in the education and training sector, before moving into the construction industry. Having discovered her passion for psychology, she opened up about how studying with the OU has helped her overcome personal barriers.
"I think over time everyone can start to doubt their ability in anything they do," she said.
"Working in bid writing obviously involved a lot of writing but I was struggling with my work as I was losing the passion I once had for it. I began to doubt myself, thinking I wasn't good at it. Studying with the OU has allowed me to put effort into something I do have a passion for and that has shown in my TMA and EMA results, and it has really helped to give me confidence in myself and my ability again.
"The OU has given me more motivation and aspirations for my future. I was very uncertain for a while on where my career was heading or what my future looked like, but I have a much clearer idea now and it has given me a goal to work towards."