Professional biography
Dr Ross Fergusson: BEd.(Hons) (Reading); MA (Keele); PhD by Published Work (Open)
I am a Professor of Social Policy and Youth Policy in the Department of Social Policy and Criminology at the Open University.  I have taught and researched the Sociology of Education (Faculty of Educational Studies, 1982 -1991), and Social Policy and Criminology (Faculty of Social Sciences since 1991). I was Sub-Dean for External Relations in the School of Education, and Associate Dean for Academic Standards and Quality in the Faculty of Social Sciences.
I have worked in a range of quality assurance and governance roles at the Open University, and was until recently a reviewer of Undergraduate and Postgraduate degrees for the UK Quality Assurance Agency (QAA), and reviewer of degrees at undergraduate, masters and taught-doctoral levels in Higher Education Institutions in England and Scotland that are validated by the Open University. 
I am a member of the UK Social Policy Association and was until recently a member of the Editorial Board of the Journal of Social Policy.
Research interests
I am by origin a sociologist of education with an internationally-recognised reputation for research on young people, connecting the fields of education, employment, welfare and crime. My principal research interests are in policy development and the governance of young people at the interface between social policy and youth justice policies, and in the work and influence of International Organisations in these fields. The focus of this work is on the trajectories of disadvantaged young people whose low-achieving educational and other profiles impede their progress towards independent adulthood, following adverse experiences in labour markets, social welfare and criminal justice systems. My work explores these points of intersection theoretically and empirically at a number of levels, particularly with regard to policy, and demonstrates the adverse effects of the normative concept of 'youth transitions' and its stigmatisation of  unemployed school-leavers. This approach focuses on the harmful construction of young people as a disengaged and economically inactive population, their positioning within welfare systems in conditions of recurring failures of demand for their labour, and the effective criminalisation of some groups of 'non-participants'. My contributions offer new cross-disciplinary transnational perspectives drawing on sociology, political economy and labour market analysis, as well as on the fields of social policy and youth criminal justice. My most recent research and publications highlight how transnational economic, social and governance structures drive national responses to youth unemployment.
I am affiliated to the Harm & Evidence Research Collaborative | (open.ac.uk) in the Open University's Faculty of Arts and Social Sciences; and to the university's interfaculty Innovation, Knowledge and Development  Research Group ( International Development and Innovation research at the OU | Open University ). 
My publications can be viewed at Ross Fergusson - Open Research Online  and under the 'Publications' tab (above) on this website. 
My most recent publications are: 
Fergusson, R. (2022a, forthcoming) 'Young People, Antisocial Behavior and Unemployment Toward a Trans-Disciplinary Analysis of Criminalization' in Critical Criminology: an International Journal, 30, (1/4) pp.00-00. DOI: 10.1007/s10612-021-09600-1
Fergusson, R. (2022b, in press) 'Global Youth Policy, Labour and (Un)employment', in Yeates, N. and Holden, C. (eds.) (2022) Understanding Global Social Policy (3rd edition) Bristol University Press (22 pp.)
Fergusson, R. and Yeates, N. (2021) Global Youth Unemployment: history, governance and policy, Cheltenham, UK,  Edward Elgar Publishers (279 pp). ISBN: 9781789900415
Global Youth Unemployment (e-elgar.com)
Critical acclaim for this book:
'Fergusson and Yeates' distinctive voice narrates a timely diagnosis of an acute but understudied phenomenon, as viewed through historical and contemporary lenses. This is a book of big ideas that will set the standard for future analyses of global youth unemployment.' Heidi Gottfried, Professor of Sociology, Wayne State University, Detroit, USA 
'A fascinating, important and timely book…The call to action that concludes the book, is original and impressive. It will be an important book for students and scholars in social policy, political science, sociology and youth studies.' Robert MacDonald, Professor of Education and Social Justice, University of Huddersfield, UK
'Recognizing and analyzing youth unemployment as an inherent "global" social problem, this book takes an innovative and insightful view of this phenomenon …[it] is a must-read for anyone interested in global social policy and labor issues.' Kerstin Martens, Professor of International Relations and World Society, University of Bremen, Germany
'Youth unemployment, as a social policy and social movement issue, now has its definitive treatment in this magnificent book … This is historically grounded, policy relevant, critical analysis at its best.' Ronaldo Munck, Professor of Political Sociology, Dublin City University, Ireland
'A vital contribution to our understanding of the transnational structures contributing to the endemic problem of youth unemployment … Its conclusions and recommendations are highly relevant for the post-Covid 19 era.' Robert O'Brien, Professor of Political Science, McMaster University, Canada
'Rarely has a study of global youth unemployment so adeptly combined an empirically-grounded scrutiny of its levels and trends, with a conceptually nuanced analysis of its political economy drivers at multiple scales. Fergusson and Yeates make a compelling case for seeing endemic youth unemployment as an issue of grave social injustice–one that supply-side palliative approaches have patently failed to address, and which is in urgent need of integrated employment, social protection and macroeconomic policies backed by a more cohesive system of social and economic governance at the global level.'  Shahra Razavi, Director of the Social Protection Department, International Labour Organization, Switzerland
Extracts from published reviews of this book in learned journals:
' "Global Youth Unemployment"... is a remarkable book: conceptually rich and empirically epic, it deserves to have a major impact on the study of social policy, and indeed across the social sciences more generally. Its most important contribution is perhaps the contention that youth unemployment is a global or transnational phenomena. As the authors acknowledge, they are not the first to study youth unemployment as a global issue – but there have been few, if any, books which detail so convincingly and originally the cross-border determinants of youth unemployment.' British Journal of Industrial Relations (published online on 29 November, 2021 at: Global Youth Unemployment: History, Governance and Policy by Ross Fergusson and Nicola Yeates, by Craig Berry. - Berry - - British Journal of Industrial Relations - Wiley Online Library
Fergusson, R. (2021) 'International Organizations' Involvement in Youth Unemployment as a Global Policy Field, and the Global Financial Crisis' in Martens, K, Niemann, D.  and Kaasch, A. (eds.) (2021) International Organizations in Global Social Governance, Palgrave Macmillan  (Book form and Open Access) (25 pp.). ISBN: 9783030654382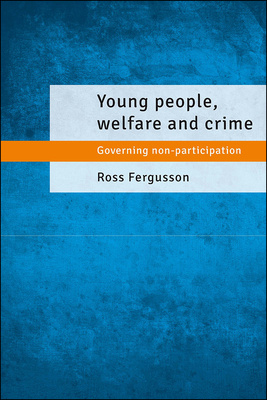 Fergusson, R. (2016) Young People, Welfare and Crime: Governing Non-participation, Bristol, The Policy Press / University of Bristol Press (286 pp) ISBN: 978-1447307020
Policy Press | Young People, Welfare and Crime - Governing Non-Participation, By Ross Fergusson (bristoluniversitypress.co.uk)
Critical acclaim for this book:
"Fergusson's timely publication engages with the adverse conditions of young people's 'transitions' empirically and theoretically with a level of analytical precision and authority that will make it an indispensable source for sociologists, social policy analysts and criminologists." Barry Goldson, Charles Booth Chair of Social Science, University of Liverpool
"This is an exciting book. Too often scholarly debates and policy thinking about young people take place in separate disciplinary fields, limiting the theoretical potential for understanding. Here Ross Fergusson has produced an important and novel contribution to the way that we should think about the exclusion of young people. The book is to be commended for its ambition in bringing together theory and research from youth studies, criminology, sociology and social policy, better to understand work, welfare and crime." Robert MacDonald, Professor of Education and Social Justice, Huddersfield University
Extracts from published reviews of this book in learned journals:
" 'Young People, Welfare and Crime' is scholarly. It is readable. It provides an original analysis. This book excels on all levels …It offers a stunningly clear theoretical framework… Its interdisciplinary analysis is utterly compelling and masterful. The implications are profoundly unsettling…" British Journal of Criminology, 58 (1), 2018. 
https://doi.org/10.1093/bjc/azw063
"A wide-ranging, knowledgeable and sophisticated attempt to offer fresh insights and a strong challenge to the ways in which the young are marginalised and manipulated by dominant social forces. " Critical Social Policy, 36 (4), 2016. 
http://journals.sagepub.com/doi/pdf/10.1177/0261018316655715a
"[This] is an important book. It challenges established approaches to understanding the lives of young people; works across disciplines; … and locates debates about participation, welfare and crime in a critical constellation of perspectives… The implications … are serious - not only for those young people who continue to defy the strictures of the state, but also for the principles of social justice and democracy..."  Young, 26 (1), 2018  
Teaching interests
PhD supervision and examining
I supervise and examine PhD candidates, and welcome  proposals from prospective students who are enthusiastic about high quality original research into social policy and youth policy at an advanced level. I am happy to consider proposals for research projects, particularly those that focus on young people and youth social justice and criminal justice regarding work and unemployment, welfare dynamics and change, and poverty, social exclusion and social inequality.
Undergraduate and Masters courses
I have written for more than a dozen Open University undergraduate and postgraduate modules, including as chapter author, book editor and  block coordinator. Of greatest relevance here are the following (most recent at the top of the list)  
DD212 Understanding Criminology 
DD206 The Uses of Social Science
DD301 Crime and Justice: Local and Global
DD208 Welfare, Crime and Society
D315   Crime, Order and Social Control  
DD305 Personal Lives and Social Policy
D861   Managerialism and Social Policy 
D864   Youth Justice, Penality and Crime Control 
DD100 Understanding Social Change 
D218   Social Policy:  welfare, power and diversity 
Teaching-related Published Work
Edited collections
McLaughlin, J., Fergusson, R., Hughes, G. and Westmarland, L. (eds.) (2003) Restorative Justice: Critical Readings, London, Sage/ Open University, (OU co-published Module Reader: DD301 (237 pp) (contribution: 20%))  ISBN: 9780761942092
Hughes, G. and Fergusson, R.(eds.) (2000) Ordering Lives: Family, Work and Welfare, London, Routledge/ Open University, (OU co-published Module Reader: DD100) (171 pp) (contribution: 40%)  ISBN: 9780415329729
Dale, R., Fergusson, R. and Robinson, A (eds.)(1988) Frameworks for Teaching:  readings for the intending secondary teacher, Hodder and Stoughton / Open University, (OU co-published Module Reader: EP228)  (400 pp) (contribution: 33%) ISBN: 9780340424216
Dale, R, Esland, G, Fergusson, R. and MacDonald, M. (eds.) (1981a) Education and the State (Volume 1):  Schooling and the National Interest, Falmer Press / Open University (OU co-published Module Reader: ) (402 pp) (contribution: 25%) ISBN: 0905273168
Book chapters in edited collections
Fergusson, R. (2022, forthcoming) 'Global Youth Policy, Labour and (Un)employment', in Yeates, N. and Holden, C. (eds.) (2022) Understanding Global Social Policy (3rd edition), Bristol, Bristol University Press 
Fergusson, R. (2018) 'Critical reflection and review' in Cooper, V. and Phoenix, J. (eds.) Criminological Theories and Concepts: Book Two, Milton Keynes, Open University (32 pp), (OU Module Reader: DD212) ISBN: 9781473003033
Fergusson, R. and Muncie, J. (2009) 'Conflict resolution and alternative justice', in Drake, D., Muncie, M. and Westmarland, L. (eds.) (2009) Justice: local and global Cullhompton, Willan (33 pp) (contribution:50%), (OU co-published Module Reader: DD301) ISBN: 978143925149
Fergusson, R. and Muncie, J.(2008) 'Criminalising Conduct', in Cochrane, A. and Talbot, D. (eds.) Security: crime and social policy, London, Palgrave (33 pp)(50%), (OU co-published Module Reader: DD208) ISBN: 9780335229321
Fergusson, R. (2004a) 'Remaking the relations of welfare and work', in Mooney, G. (ed.) Work: personal lives and social policy,  Bristol, Policy Press / Open University, (44 pp), (OU co-published Module Reader: DD305) ISBN: 1861345208
Fergusson, R. (2000b) "Modernising Managerialism in Education" in Clarke, J. Gewirtz, S. and McLaughlin, J.E. (eds.) (2000) New Managerialism, New Welfare?, London, Sage / Open University (20 pp.), (OU co-published Module Reader: D861) ISBN: 9780761967576
Fergusson, R. and Hughes, G. (2000)  "Welfare: from Security to Responsibility" in Hughes, G. and Fergusson, R. (eds.) (2000) Ordering Lives: Family, Work and Welfare, London, Routledge/ Open University, (44 pp.) (contribution:60%), (OU co-published Module Reader: DD100) ISBN: 0415222923
Fergusson, R. (1998) "Choice, selection and the social construction of difference: restructuring schooling", in Hughes, G and Lewis, G (1998) (eds.) Unsettling Welfare, London, Routledge / Open University, (42 pp), (OU co-published Module Reader: D218) ISBN: 0415181348
Fergusson R. and Mardle, G. (1981)' Education and the Political economy of Leisure'  in Dale, R, Esland, G, Fergusson, R. and MacDonald, M. (eds.) (1981) Education and the State (Volume 2):  Politics, Patriarchy and Practice, Falmer Press (16 pp) (contribution:50%) (OU co-published Module Reader: E353) ISBN: 0905273184