On Thursday 15th November a fascinating new three-part documentary series, Inside the Foreign Office begins on BBC2 at 9pm. There's never been a more significant time to look behind the scenes. Film-maker Michael Waldman captures the extraordinary world of the men and women working in some of the most complex and sensitive jobs in government, over the last 12 months.
Throughout a compelling and turbulent year, BBC Two has gained privileged access to the private and fascinating world of British diplomats in Whitehall and embassies around the globe, from Burma to Ukraine.  We follow them as they tackle global crises from Russia to Burma, and see how decisions made now - as the UK prepares to exit the European Union - will shape its new relationships on the world stage. We also see the often overlooked and complex roles of British diplomats, as Britons who find themselves in serious trouble abroad turn to them in need of urgent help: from the Forced Marriage Unit that looks after distressed British victims, to locating Britons' stranded after Hurricane Irma, to helping a British man jailed in Cambodia.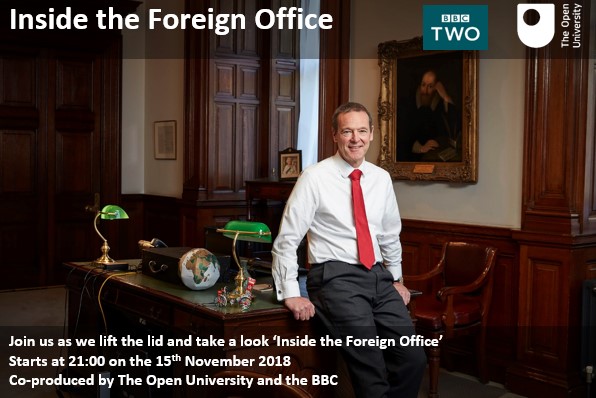 Episode One:  Keeping Power And Influence (15.11.18 @ 9pm)
How can the UK maintain its influence on the world stage - and in doing so protect the UK's security? Filmed during Boris Johnson's tenure as Foreign Secretary, we meet Sir Simon Macdonald, the Permanent Under-Secretary and chief civil servant at The Foreign Office. As politicians come and go, civil servants remain.
Episode Two: Brave New World (22.11.18 @9pm)
In this second episode we join the Europe Director Caroline Wilson with Boris Johnson on their whistlestop tour from RAF Northolt to Lisbon and Paris.
Episode Three: Brits in Trouble (29.11.18 @9pm)
The way most Britons come into contact with the Foreign Office is when they get into trouble overseas. This film follows three diplomats as they try to aid Brits who unexpectedly find themselves in serious trouble on the other side of the world.
Full programme details can be found on OpenLearn.
The new series links into the following qualifications and modules within the Faculty of Arts and Social Science.
Qualification Pathways:
Individual Modules:
The OU Nominated Academics for the series are Dr William Brown and Dr Edward Wastnidge, the Media Fellow is Dr Alison Penn.