Dr Clare Taylor is a Senior Lecturer in Art History and a Staff Tutor at The Open University. In this blog, written specifically for this series, she describes how she devised an innovative way to combine her passions during lockdown. Find out how a series of architectural guides known as 'Pevsners', inspired her to explore the beauty of rural Oxfordshire. You can follow Clare on Twitter using @_ClareTaylor.​
Lockdown and studying architectural and design history did not seem a good combination back in March 2020. I work on the design and decoration of the historic interior, and lockdown ended any possibility of site research, as across the country historic houses closed their doors to visitors. It also meant not travelling far, and for only once a day, and as I live in rural Oxfordshire the opportunities seemed limited. However, there was a solution and it came in the form of a book I already owned.
'The Buildings of England' is a series of architectural guides better known as 'Pevsners', named after the founding editor Sir Nikolaus Pevsner. Today the series offers what it calls 'informed descriptions, spiced by lively informed comment, of every building of architectural importance in every English county'. As well as what it calls the 'grand set pieces' it also covers what it describes as 'lesser delights', from village churches to pumping stations. Pevsner and his wife Lola began their task in the 1940s with rigorously researched routes and a clip-board checklist, and the guides are still rooted in detailed fieldwork alongside archival research.
It was the guide to 'Oxfordshire: North and West' which became my lockdown companion. Daily exercise presented an opportunity to spend evenings and weekends walking and cycling round my local area, and, armed with my Pevsner (and aided by quiet, traffic-free roads) see sites that I had otherwise missed in places I had previously by-passed.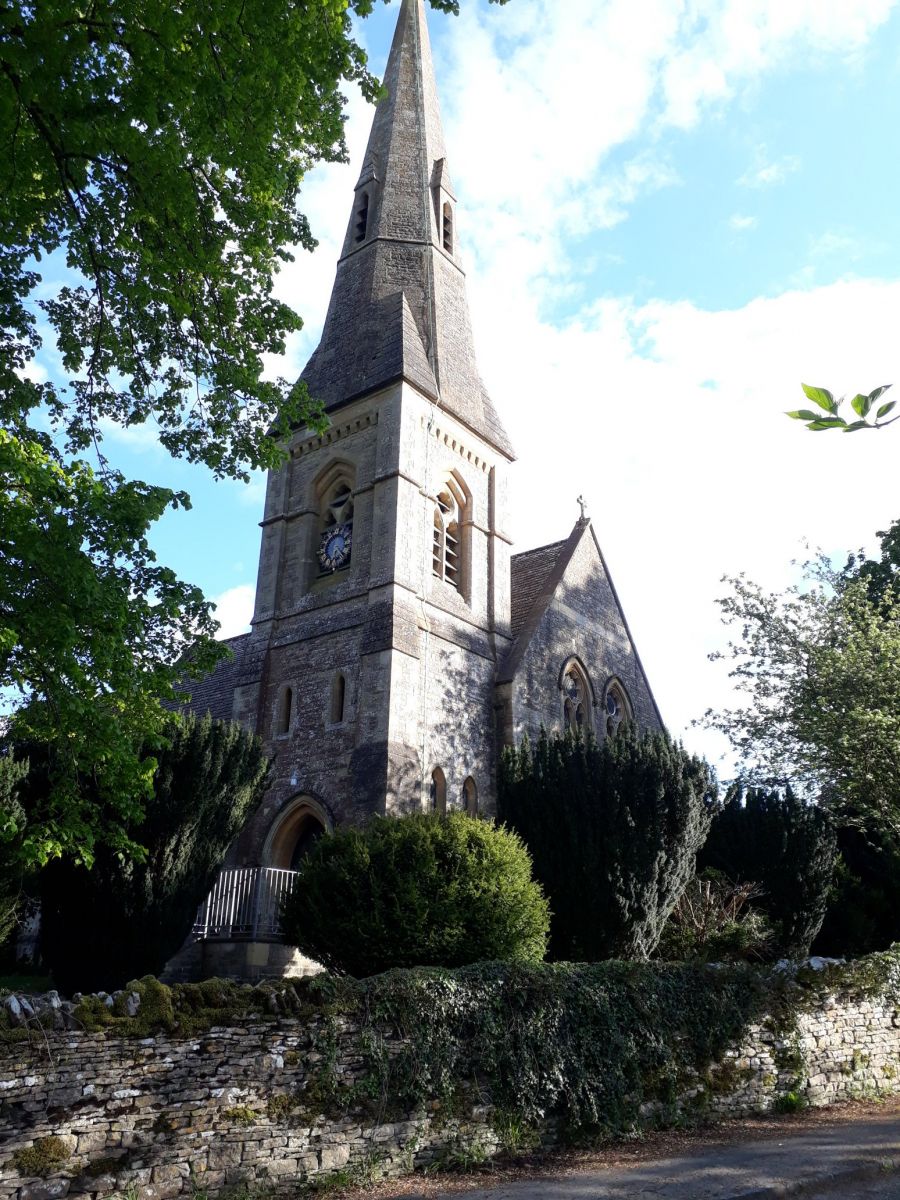 So what did I see? Lots of village churches, obviously. My favourite was St James, Ramsden (pictured). It was built comparatively late for an Oxfordshire church, in the 1870s, in an unusual late Medieval style. Approaching by bike, you turn the corner sharply in the square and pedal frantically as you ascend the hill. The church spire looms over you, close to the churchyard wall and the road, and this, my Pevsner tells me, is its 'best feature by far'. Buttressed and topped by a slender spire, it is a way-marker from afar as its site on the slope gives it extra height. What I also liked about St James' is that the flower arrangers did not let church closures stop them; the church gates were decorated with flowers for VE day.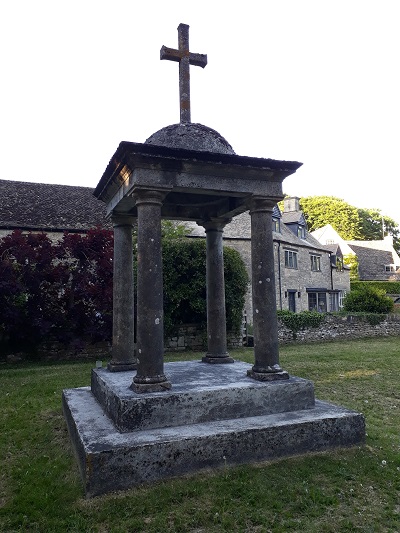 There were other reminders of war too, in the shape of village war memorials, and, at Delly End near Hailey, what my Pevsner described as a 'handsome' Peace Memorial of c.1920. This plain, small scale open-sided temple in white stone with a domed roof adopts a classical model and is set apart on the far side of the green.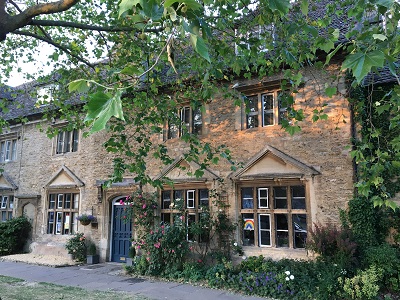 Other sites also had associations local and national. In Witney, a series of houses grouped around Church Green had been bastions against earlier pandemics for Oxford University Including 'Wychwood' and the aptly named 'Hermitage' reputed to have been a plague retreat for either Merton, St John's or Corpus Christi College. It was strange to reflect how survival was managed in earlier pandemics, when travelling just 10 miles was viewed as a way to escape infection.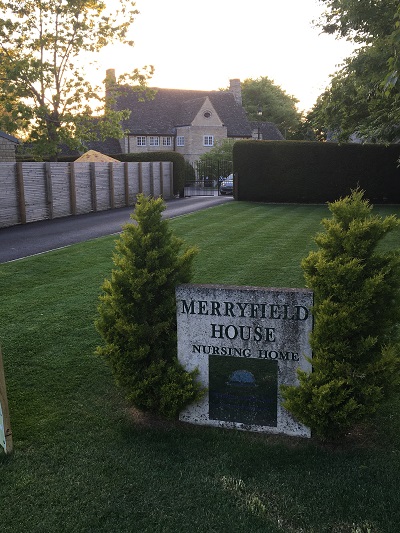 I was also able to seek out examples of more recent architecture. The architect Oliver Hill, better known for smooth modernist buildings and interiors in modern materials, is not at first glance one you would associate with the Cotswolds, but my Pevsner noted two buildings by him. Merryfield(s) House was described as 'A fine Arts and Crafts building in romantic Cotswold-farmhouse style'. It was built in 1936 for one of the town's blanket manufacturers, so perhaps an appropriate choice for a client whose business was rooted in the areas best-known export. Today it's a care home so the gates were firmly closed.

There was also more contemporary architecture to be found, some of which post-dated the publication of my Pevsner in 2017. The barn at Middlefield Farm (pictured below) near Merryfield was a case in point. Sited at the edge of the complex of farm buildings (all now converted to domestic use) its metal roof appears like a ship's hull when approached on foot uphill from the fields below. New build unites the older farm buildings without losing the agricultural edge in a further re-working of the Cotswold vernacular taken up by Oliver Hill.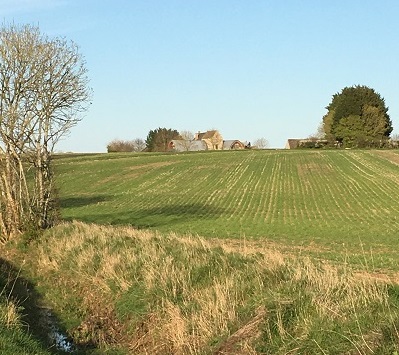 Finally, I observed builds still in progress including the partly completed pair of gatehouses which edge the site of St John's House. This enormous country house, designed by the contemporary architect Robert Adam, will be built in the Palladian style, that is the style of eighteenth-century country houses which echoed in their proportions and detailing the designs the classical world.
So, 'grand set pieces' as well as 'lesser delights' were all part of my lockdown explorations, bringing about a new engagement with my local environment. All you need is a map, a Pevsner and good weather.