Dr Kim Charnley is a Staff Tutor and Lecturer in Art History. In this blog he introduces a digital platform, 'Beyond the Now', that will launch on Thursday 15 October. This project is undertaken in partnership with six other arts organisations and is focused on the part that socially-engaged art will have to play in responses to the COVID-19 crisis.
The goal of 'Beyond the Now' is to share perspectives and foster debate about the place of the arts in social justice in a post-pandemic world.
 

Over the last two decades, socially-engaged art has developed an important presence in international contemporary art. Whereas once, work with marginalised communities was identified solely with community art and art activism, it now receives mainstream attention. In large part, this is because socially-engaged artists are typically good at responding to the crisis-conditions that increasingly shape our world. Socially-engaged art, or 'social practice' as it is sometimes known, has developed important responses to social inequality, to the experience of refugees and migrants and to the climate crisis.
'Beyond the Now' is a syndicated social practice platform, founded by partners based and working in locations across the globe, which aims to open new creative, cultural and political affinities for a post-pandemic world. Beside the Open University, partners include Counterpoints Arts, Create, Plymouth College of Art, Ettijahat, Coculture, and Mozfest.
The platform has been established to commission short reflective writings, as well as other creative submissions from artists, arts professionals and community activists, reflecting on the COVID-19 situation. Once commissioned, these writings will be syndicated: promoted online through the networks of the partner organisations in the project. In this way, the project aims to facilitate the sharing of perspectives; to learn from organic responses of solidarity that have sprung up from communities of place and interest in the context of COVID-19, and to re-imagine socially-engaged art in the light of the current crisis.
One of the key questions driving the project is quite simply 'where and what is the social in a post-pandemic world?' The scope of this question is intentionally very broad, because the effects of COVID-19 are so far-reaching. It is clear already that the effects of the virus are heightened by existing patterns of social inequality. For some the primary problem has been dealing with social isolation; for others, the economic effects of lockdown are disastrous; for others, the presence of disease is a daily psychological burden, because they belong to a high-risk group. All of these burdens fall more heavily on those who are already vulnerable. In most countries, the state has been required to coordinate a collective response to disease, with varying levels of success. Lockdowns themselves emphasise the different conditions of work and domestic life experienced by 'essential workers' and 'home workers', emphasising the connections between spatial and economic justice. It is a striking feature of this moment that COVID-19 is a global phenomenon although, once again, its effects tend to be more severe in places where health infrastructure is less effective.
It is an open question what artists might be able to contribute to address these problems. The first task is to make experiences visible and to set them in an international context. This also means acknowledging the effect that the pandemic is having on arts infrastructure, where many practitioners work as free-lancers, dependent on public commissions that have been interrupted by the lockdown and other health measures. In the UK, and around the world, theatres and museums are struggling with the financial implications of the new realities imposed by COVID-19. Once again, the many creative workers whose incomes were already precarious now find themselves in sometimes impossible situations.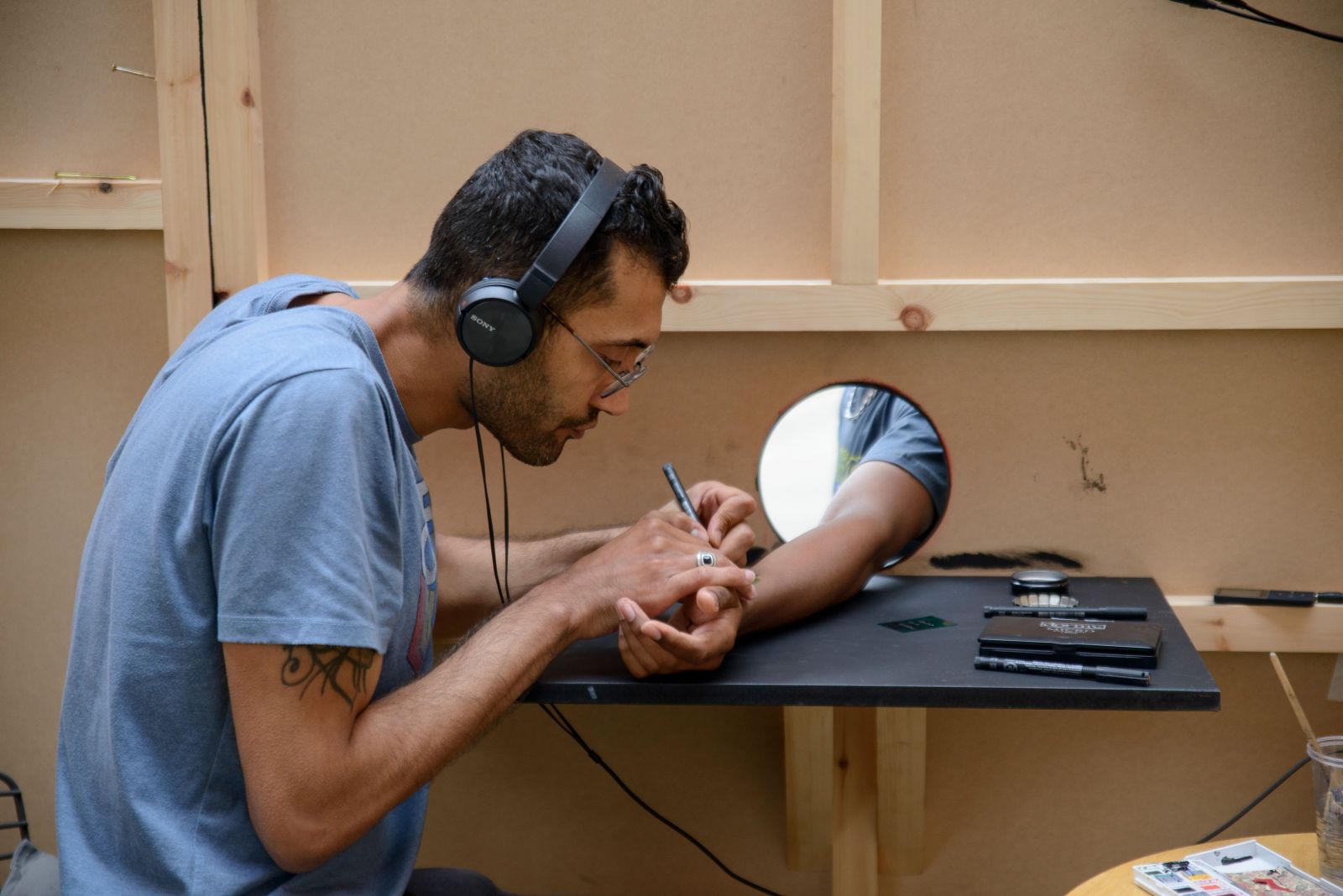 In acknowledgement of this diversity of experience, 'Beyond the Now' will feature personal reflections alongside those that are theoretical; interviews and discussions as well as artworks. The sensory dimension of social experience and the meanings attributed to human interaction have changed, because of the invisible vectors of disease transmission. Social distancing and the wearing of masks are only the most obvious examples of this altered situation. There is a great deal that needs to be explored and understood.  
Everyone can see that this is an unprecedented situation. What is less clear is how it will play out in a world that already experiences urgent problems, not the least of them the intensifying manifestations of the climate crisis. 'Beyond the Now' is a space to work through the implications of this situation for an art of social and political engagement.
It is anticipated that the project will be organised into seasons, with commissioned works in groups over a number of weeks. To see some of the works commissioned follow 'Beyond the Now' on twitter @Beyond_the_Now and at the website. 
Article photo image credit: Marcia Chandra, a Stitch in Time, Who Are We? Project, 2018. Courtesy of Counterpoints Arts. Image of a group of women sewing together.
Photo image credit: Marcia Chandra, As Far As Isolation Goes at the V&A Museum, Refugee Week 2019. Image courtesy of Counterpoints Arts.