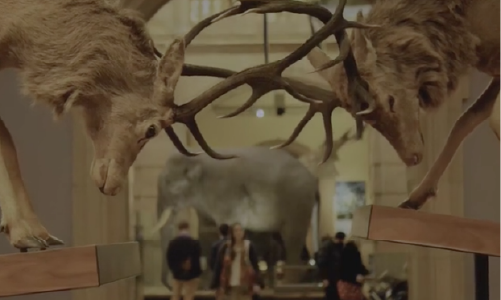 Be among the first to watch two new short documentaries that explore some surprising connections between climate change and art.
Join us in person at the launch at the Glasgow Science Festival where a pedal powered cinema will be used to screen the films for the first time 11-12 June! If you aren't near Glasgow then you can watch both films online during the festival through their 'Science on the Sofa' platform.
How to be involved
Film launch and Q&A
Saturday 11 June, 14:00-14:30 at the Kelvingrove Museum, Education Suite
Join the creators Dr Samuel Shaw and Dr Carla Benzan, art historians at The Open University, and the director, and local wildlife filmmaker, Libby Penman.
Drop in to view the films via a pedal powered cinema
Saturday 11 June, 14:30-4:30 and Sunday 12 June, 12:00-15:00 at the Kelvingrove Museum, Education Suite
Watch the films online during the Glasgow Science Festival (2-30 June, 2022) via 'Science on the Sofa' on their website.
About the films
'Hunting for Feathers' takes viewers on a journey of discovery, revealing surprising connections between art and biodiversity. Carla Benzan, an art historian at The Open University, goes on the hunt for feathers in Glasgow Museum collections. Starting with a series of remarkable portrait paintings, her search brings her to taxidermy bird specimens, nineteenth-century fashion prints, and ornate ostrich feather fans. In conversation with zoologists, curators, and conservationists, this film shows how images can have a real impact on the bird life that surrounds us.
'Landscapes of Change' asks us to consider the way in which nineteenth-century landscape painters responded to the industrial revolution. The film concentrates on images of two rivers: the Clyde in Glasgow, and the Seine in Paris, both of which were radically transformed over the course of the nineteenth century. Samuel Shaw, an art historian at The Open University, explores a range of paintings by Scottish and French artists, and questions what these objects may teach us about our response to the environmental crisis today.
Find out more about the project via the Open Ecologies website.