In-person event at The Crichton in Dumfries and livestreamed on ORIGINS Festival's Facebook page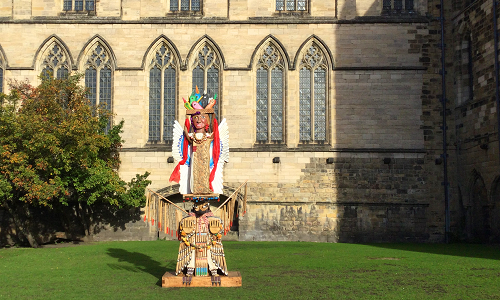 Join a unique event to reflect on TOTEM LATAMAT'S journey from Mexico to COP26 as it is laid to rest at The Crichton in Dumfries, Scotland.
TOTEM LATAMAT is a 4.5m tall totem carved from a single tree by Totonac artist Jun Tibercio. It has travelled more than 9,000km from Mexico to the UK, where it's been touring the country in the lead-up to COP26 in Glasgow. With travel restrictions in place, to totem has made this important journey to help represent Indigenous cultures at this year's conference.
After COP26, the totem is being taken to The Crichton, where it will be ceremonially returned to the Earth, emphasising the cyclical and transient nature of life and art.
With close links to his research, Professor of Religious Studies in the Faculty of Arts and Social Sciences, Graham Harvey, will be joining a panel of speakers to explore the meaning of the totem's journey to COP26 and its presence at the Indigenous hub in The Hidden Gardens in Glasgow.
The panel members are all from Indigenous and non-Indigenous backgrounds and with different but complementary perspectives on climate change.
This is a free in-person discussion at The Crichton in Dumfries, Scotland, but will also be livestreamed for online audiences via Facebook. To attend either the in-person event or watch the live stream, you can register now.
Register via Eventbrite
TOTEM LATAMAT, will be on The Crichton Estate from the Monday 15 November. The short ceremony to commit the totem to the grounds of The Crichton will take place on Saturday 20 November from 11am-12pm, after this event.
Read more about the meaning behind TOTEM LATAMAT and its links with Professor Harvey's research.