Glasgow, Scotland – 31 October 2021 – COP26 begins
As the doors swing open to what may be the most urgent summit of world leaders we've ever seen, many are hopeful that the conversations taking place at the UN's Climate Change Conference of the Parties (COP) between 31 October and 12 November will bring a firm commitment to action to end climate change.
As the Faculty of Arts and Social Sciences we're proud of the academic work taking place in vital areas that seek to tackle climate change and we're looking forward to supporting and highlighting emerging work. Throughout the last month we've shared links to relevant research and curriculum areas, and here we spotlight some of them to show the breadth of our Faculty focus.
FASS academics joined colleagues across The Open University to foster an inter-disciplinary approach to sharing their expertise through FREE learning focused around COP26 and the fight to halt Climate Change.
Staying with the need for climate change education, FASS and STEM Associate Lecturer Dr Peter Wood co-authored a paper on how Higher Education could adapt, embedding climate change education into all university structures. Many of our academics are involved in SRAs and Research Groups and Clusters that foster an inter-disciplinary approach, and we're looking forward to seeing more from colleagues in FBL, STEM and WELS on their approaches to the challenges ahead.
We took the time to return to and reconnect with Professor Giles Mohan's explanation of just what the 17 UN's Sustainable Development Goals (SDGs) are, and why they're of such fundamental importance to climate change, along with urgent issues such as poverty, sustainability and access to quality education.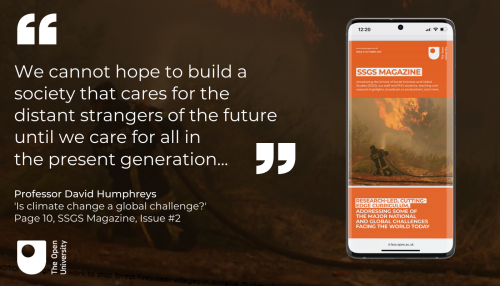 In Issue #2 of the SSGS magazine Professor David Humphreys, academic adviser on the three-part BBC series Greta Thunberg: A year to change the world, asks: "Is climate change a global challenge", exploring how planetary change is affecting the livelihoods of communities around the world. In the same issue, climate change and sustainability are also high on the agenda in complementary pieces from Derek Goldman in Scotland, Lynnette Thomas in Wales, and John D'Arcy in Ireland.
We drew attention to the tendency in the Anthropocenic age to actively suppress indigenous knowledge and, in Western Society in particular, to allow a culture of destruction and neglect to take hold, sharing Dr. Eleni Dimou's work where she asks: Is it time to reassess our relationship with nature?
Drawing focus back to our recent THE award shortlisting, we wondered whether our post-pandemic world will continue to see us spending less time travelling and more time online. Will the outcomes of COP26 propose and support a more 'globally-local' delivery model for counselling and mental health services?
The narratives of disaster can start to feel overwhelming, and we appreciated the opportunity to return to Professor Sophie Watson's piece from the Covid Chronicles, urging action not despair about the impending water crisis. In a similar vein, 'Writing the Climate' challenges us to create a narrative flow that never strays into hackneyed depictions of dystopia. Dr Sally O'Reilly takes us on an exploration of climate fiction writing in this three-part video series.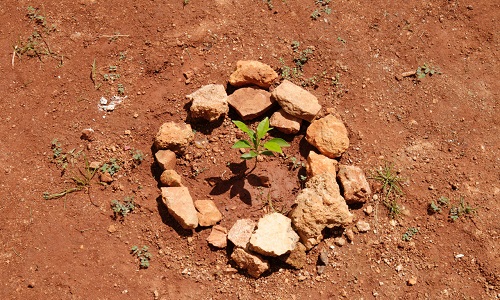 Staying in the creative realm, Picturing Climate, a 'Participatory Photography and Narrative Storytelling for Climate Change Education' research project, brought together artists, researchers and grassroots arts and culture organisations in Cuba, Bosnia and Herzegovina, Jordan and the UK. Together they explored the potential educational capacity on climate-change-induced food and livelihoods insecurities.
What are some of the creative cultural processes that enable activists, artists and indigenous groups to impact global climate politics? We're looking forward to hearing this question answered at Eco-Creativity 2021, a free virtual conference taking place on 19 November that will explore interactions between climate change and cultural change through innovations in art, music and ritual.
Professor Graham Harvey has supported the journey of TOTEM LATAMAT, partnering with Border Crossings, as it makes its way to COP26. The totem, emblematic of the indigenous voices it represents, started its journey in Mexico, and by the time it arrives at its final resting place of The Crighton, Dumfries on 14 November 2021 we will collectively have drawn a much clearer picture of the outcomes of COP26, and can begin to focus on what comes next.
Find out more about our research
Find out more with OpenLearn