My research centres on transnationalisation and globalisation as social processes, together with their impacts on, and implications for, social policy and welfare as a field of academic teaching and research and as a political practice of state and non-state actors. An on-going theme in my work is how social diversity, divisions and inequalities are constructed, manifested and contested through trans-border social processes.
Areas of interest include globalisation(s) 'from above' and 'from below', including the development of global and world-regional governance and its relationship to national social systems; state and non-state strategies of internationalisation, including labour migration, family formation, health and social protection; and the development of transnational social, advocacy and policy networks. Many of my recent publications are on the relationship between international migration and social and health care ('global care chains'), global social policy, and regional social governance. I have more recently extended my research to encompass global youth unemployment, in collaboration with Prof. Ross Fergusson.
My research publications can be viewed at The Open University's Open Research Online or on my publications profile on this site. 
New in 2023:  A global fund for social protection: lessons from the experiences of global health, climate and agriculture funds (ILO Working Paper 97, September)
New in 2022: February: third edition of Understanding Global Social Policy (editor, with Chris Holden) 
New in 2022 (April) paperback edition of Global youth unemployment: history, governance and policy (with Ross Fergusson)
Critical acclaim for this book: 
'Rarely has a study of global youth unemployment so adeptly combined an empirically-grounded scrutiny of its levels and trends, with a conceptually nuanced analysis of its political economy drivers at multiple scales. Fergusson and Yeates make a compelling case for seeing endemic youth unemployment as an issue of grave social injustice–one that supply-side palliative approaches have patently failed to address, and which is in urgent need of integrated employment, social protection and macroeconomic policies backed by a more cohesive system of social and economic governance at the global level.' – Shahra Razavi, Director of the Social Protection Department, International Labour Organization, Switzerland
'Fergusson and Yeates' distinctive voice narrates a timely diagnosis of an acute but understudied phenomenon, as viewed through historical and contemporary lenses. This is a book of big ideas that will set the standard for future analyses of global youth unemployment.' - Heidi Gottfried, Professor of Sociology, Wayne State University, Detroit, USA 
 'A vital contribution to our understanding of the transnational structures contributing to the endemic problem of youth unemployment. The study draws attention to the necessity of dealing with this human tragedy through the lens of global social policy analysis. Its conclusions and recommendations are highly relevant for the post-Covid-19 era'. - Robert O'Brien, Professor of Political Science, McMaster University, Hamilton, Canada. 
__________________________________________________________________________________________________________________________________________________________
2021-2022 Research findings on the experiences of migrant health and social care workers during the Covid-19 pandemic. All the factsheets listed below are co-authored by Jane Pillinger, Genevieve Gencianos and Nicola Yeates. 
Factsheet 1: What we know about their situation  
Factsheet 2:Trade Union response to the challenges faced by migrant health and social care  workers  
Factsheet 3: Building the trade union agenda 
These findings were discussed with trade unions affiliated with Public Services International on December 7th 2021 https://publicservices.international/resources/events/migrant-health--social-care-workers-during-the-covid-19-pandemic?id=12489&lang=en
Factsheet 4: Risks and Responses: What risks did migrant health workers face during the COVID-19 pandemic? What were the responses of governments and other stakeholders?
Click here to access these factsheets, as well as the project's research publications and its short film. 
This work was supported by the UK Research and Innovation Fund [grant reference  ES/W013193/1].
_________________________________________________________________________________________________________________________________________________________
2019: International health worker migration and recruitment: global governance, politics and policy (with Jane Pillinger)  Click here for 20% discount!
Critical Acclaim:
Nicola Yeates has always been at the cutting edge of analysis of the transfer of labor and resources from areas with inadequate health care to health richer zones. In similar fashion, her book with Jane Pillinger breaks new ground by raising the analytical lens from national policy formation to the need for 21st century global governance of transnational health labor recruitment and migration. Emphasizing the dangers of continuing the historical patterns of health brain drain, Yeates and Pillinger call for more equitable world-level policy formation. (Wilma A. Dunaway, Professor Emerita, School of Public & International Affairs, Virginia Tech, US)
The authors of this pathbreaking study creatively amalgamate the literatures on migration, global social policy and healthcare worker recruitment. The facts they reveal are stark. For example, Africa has only three per cent of the world's health workers, but many are lost to overseas recruitment. Yeates and Pillinger argue that considerations of power, justice and social development need to be given more weight in the conventions governing global labour recruitment. The authors' long experience, deep knowledge and palpable commitment to social justice lend authority to their analysis and recommendations. (Robin Cohen, Professor Emeritus of Development Studies, University of Oxford, UK)
This important book offers the first historical account of efforts to advance collective action on international health worker migration over the past seventy years.  Using a social policy lens, the authors weave together original research on a broad array of policies, spanning multiple sectors and organizational mandates.  The result is a remarkable analysis which skillfully balances both the granular detail and normative complexity of this critical global governance challenge (Professor Kelley Lee, Canada Research Chair in Global Health Governance, Faculty of Health Sciences, Simon Fraser University, Canada)
Other books include: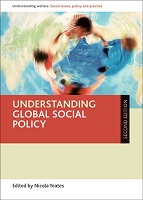 Recent grants include: 
PhD supervision and examining
I warmly welcome enquiries and proposals from prospective students who are enthusiastic about doing original and high quality research into any aspect of social policy at advanced level. I would be happy to supervise research projects on global and regional social governance, social citizenship, welfare state dynamics and change, international organisations, international migration, international development, social and health care, social protection, work and employment, poverty, social exclusion and social inequality. I have a successful track record of supervising MPhil and Phd students to completion. PhD students include:
Alois Nyanhete: The role of international mobile remittances in promoting financial inclusion and development: a Zimbabwean case study

Janice Knox-Goba: Judicial interpretation of sexual violence against women in Sierra Leone

Linda de Chenu: Transnational policy making and the rise of national suicide prevention programmes

Sarah Hadfield: Young women, employment insecurity and financial autonomy in England

Sam Toolan:  To what extent, and in what ways, has migration to and settlement in the United Kingdom shaped the mental health of older women of African Caribbean and of South Asian East African heritage? 

Freda Owusu: Critical money transfer linkages: transnational livelihoods and prospects for private remitters of funds from the UK to Ghana and Nigeria

Mike Zapp: The Globalization of Education Policy: the Diffusion of Lifelong Learning Models and the Role of International Organizations in Non-OECD Countries
I am an experienced supervisor and examiner of doctoral theses, and have been External Assessor and External Examiner for PhD students registered at universities in the UK, Germany, Ireland and Australia and beyond. 
Undergraduate and taught Masters courses
Global Development (D870, D871, D872; D229). Social Research methods (DD215). Welfare, Crime and Society (DD208)
Welfare, Crime and Society series co-editorship (with S Neal) of three interlinked course books - Social Justice (Newman and Yeates), Security (Cochrane and Talbot) and Community (Neal and Mooney) (McGraw Hill)
Beyond the Open University, I convene and write leading research-based student textbooks on various aspects of social policy, welfare and development in global and international contexts. My popular Understanding Global Social Policy textbook is into its third edition (2022, The Policy Press/Bristol University Press). I am a regular contributor to the leading student-focused social policy texts, such as The Student's Companion to Social Policy (6th edition, 2022; Wiley), Social Policy (4th edition, 2014, Oxford University Press), the Understanding Welfare series (The Policy Press/Bristol University Press), and Handbook on Social Policy and Development (Edward Elgar 2019).
I am an experienced External Examiner and curriculum reviewer. I have advised several universities in the UK and overseas regarding their undergraduate and postgraduate teaching programmes. I have also advised on curriculum development in global, international and comparative social policy for UK universities and on various courses on social policy, transnationalism, and migrations for UK and overseas universities.