Students who complete our MA go on to pursue interesting careers in art history and related fields. Some of our students have been accepted into PhD programmes, receiving prestigious awards and funding for their doctoral studies, while others work in the education sector or for heritage institutions. Many students stay in contact after completing the MA, establishing important networks across the country and even the globe. Our alumni arrange informal museum and exhibition visits as well as networking events.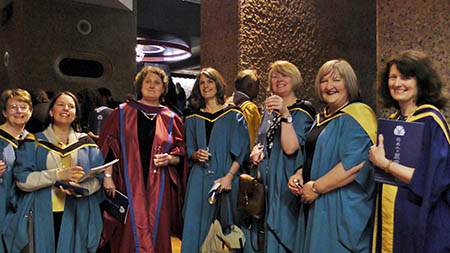 We are delighted to acknowledge the successful completion of the MA in 2016 of one of our students in particular, Dawn Faizey-Webster.
Dawn suffers from locked-in syndrome, and is almost completely paralysed. A remarkable achievement, we are proud that she chose the OU to complete her MA in Art History and that she received the support that she needed to do so. Dawn will be starting her PhD at York University in 2017.
Dawn notes the importance of art history in general and the help she received at the OU:
I was surprised to hear that Art History had to be rescued at A-level, after studying History at degree level I found [art history] far more satisfying to discovering the past and its resonance in the present through the art of looking. Although I have always loved art and architecture it was a final module in my degree that turned me on to Art History.

I found the MA to be much more stimulating and self-gratifying, with Part 1 giving you the concrete knowledge base and confidence to develop your own research agenda within the framework of Part 2.

The support offered by the OU is substantial even without disability considerations, with the allocation of a tutor and tutor group that means help is only an email or phone call away and you never feel isolated. Because distance learning was my top priority, the level of support that I had already experienced throughout my previous degree made the OU an obvious choice.