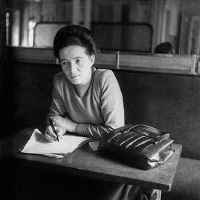 The word 'philosophy' derives from an ancient Greek word meaning 'love of wisdom'. That is a good starting definition, but for a fuller sense of what philosophy is as an academic discipline, it helps to think of it as a set of fundamental questions, a rich history of attempts to answer those questions, and a distinctive range of reasoning methods and techniques.
Why do we have emotions and how do they interact with our rationality? Is being as happy as possible the key to a good life, or do we need deeper meaning? Is it possible to make a free choice when we are influenced so heavily by the world around us? These are just some of the questions our students tackle while studying philosophy with us, as they gain a deeper understanding of both the subject and of themselves.
 
Our academics
The individual staff member pages contain details of our research interests and publications. Much of the research we do is conducted individually, with support and advice from others in the discipline and our research groups.
 
Our research
The research we conduct is broadly in normative philosophy, often with a historical perspective. This is reflected in our Values and Reasons Research Group. We are known for our research excellence, and in the 2014 Research Excellence Framework (REF) 97% of our research outputs were ranked as internationally recognised or better, with 40% being internationally excellent, and 7% world leading.
 
How we work with others
We host regular research events in philosophy such as workshops, conferences, and the Philosophy Seminar Series. Recent talks have included a discussion of philosophy in Frankenstein at the Imagine Festival in Belfast and a slot at The Aesthetic Mind Conference, Fiction and Cognition, in Switzerland. Academics are also engaged in research funded by external bodies, such as the AHRC-funded Heritage in War project. Many of us give talks on philosophy to schools.
 
Find out more
Read more about studying with us
Visit our blog for the latest news and events relating to our discipline.
Banner image: Gari Wyn Williams / Alamy; Inset image: © akg-images / Denise Bellon