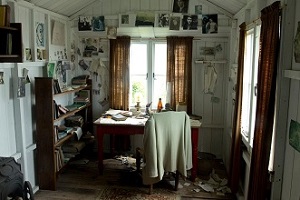 Since 2003 The Open University has recruited over 50,000 students to its undergraduate and postgraduate creative writing modules. These have proved enormously popular with students and have been acclaimed by publishers, leading authors, and teachers at other universities. Our modules are devised and run by a team of published writers – see our Meet the team page.
 
Our tutors
Creative writing is taught by a vibrant and experienced group of over 150 practising writers employed by The Open University as associate lecturers. Many of these tutors teach at other universities. By pooling and exchanging resources and experience, they have built up a unique archive of practical strategies for the teaching of writing. Go to Our tutors to find out more.
 
Our current activities
To find out more about our research and current activities, take a look at our English and creative writing blog which has articles and reviews about the field of English and creative writing. The creative writing team also runs a Contemporary Cultures of Writing research group.
 
Study options available
We offer creative writing as part of several degree programmes, including BA (Honours) English Literature and Creative Writing and BA (Honours) Arts and Humanities with Creative Writing, or students can combine creative writing with a number of other subjects as part of a humanities degree. We also offer an MA in Creative Writing for more experienced writers and supervise a number of PhD students. If you want to know more see our Creative writing qualifications page. And see our How our courses fit together page if you would like to find out how we teach creative writing.
 
Find out more
Banner image: Adrian Sherratt / Alamy; Inset image: Electric Egg / Alamy