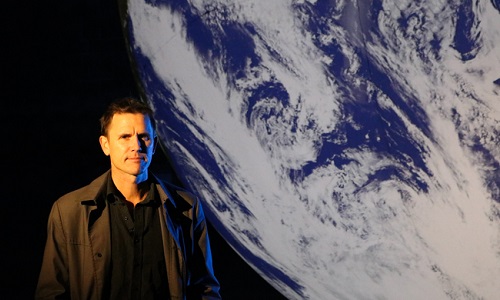 Hosted by Dr Maria Nita with Professor Shonil Bhagwat and Luke Jerram.
"I hope visitors to Gaia get to see the Earth as if from space, an incredibly beautiful and precious place. An ecosystem we urgently need to look after - our only home." Luke Jerram
Professor Shonil Bhagwat will give a short talk on his international research into the global mapping of sacred natural sites that are indigenous and community-conserved areas with spiritual importance. He will talk about the importance of these initiatives, which aim to map, assess, visualise, analyse and ultimately conserve biocultural diversity.
This will be followed by a dialogue with British artist Luke Jerram, creator of Gaia, on the topic of Gaia, Sacred Earth asking if the ways in which we map, represent, talk about, and even talk to the Earth, can change the unsustainable ways in which we relate to our planet.
Shonil Bhagwat is a Professor of Environment and Development at The Open University, whose research engages critically with environmental concerns in the areas of agriculture and food security, biodiversity and conservation, ecosystem services and sustainability.
Luke Jerram is a British artist whose multidisciplinary practice involves the creation of sculptures, installations and live arts projects. Working internationally for 19 years, Jerram has created a number of extraordinary art projects which have excited and inspired people around the globe. He is known worldwide for his large-scale public artworks. Read more about Gaia by Luke Jerram: gaia-by-luke-jerram
Maria Nita is a Lecturer is Religious Studies, at The Open University, where she teaches and researches on topics intersecting religion and climate activism.
This event will take place with an audience in Middleton Hall and also be live streamed online via the Festival's website. Questions will be invited both at the event in the Hall and can be contributed live online. For further information, visit IF: MK International Festival website.
The event will run for approximately 90 minutes.