While warning of eco-catastrophe, many Extinction Rebellion (XR) actions are remarkably upbeat, even playful, carnivalesque. There are two reasons for this. One is that XR has inherited what St John (2008) calls the protestival tradition in which carnival and protest are combined. The other reason is pragmatic. Since XR is committed to non-violence, actions that inconvenience others are upbeat, in order to diffuse angry responses from those being inconvenienced and from the police. This of course has precedents in political protest, such as offering a flower to soldiers or police. But, I will argue, it produces ambiguities.
At one local action in September 2019 that I was involved in (which did not inconvenience anyone), we stood beside a road with placards informing drivers how long it would likely be till the road would be under water and the place to which it led, where the drivers either lived or worked, becomes an island. We deliberately caught drivers' and passengers' eyes, smiling and waving. About a half of them waved back, possibly indicating considerable latent support. It seemed as though these drivers were pleased we were protesting, even if they themselves were not yet ready to. It certainly made the protesters feel good.
Another example occurred during a day of sunshine and heavy showers during XR's October 2019 London action. My group was occupying Marsham Street (outside the Home Office); one rebel set up a sound system, and a few others began dancing as the heavens opened. A couple of hours later I was talking to two young women police officers stationed half a mile away; they were disappointed to have missed witnessing 'the dancing in the rain', reports of which had obviously reached them.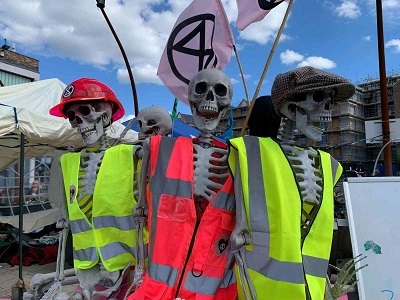 Historically, carnivals have often combined death, fun, and grassroots political dissent. In the Christian tradition, carnivals for the dead on All Souls Day, such as The Mexican Day of the Dead, are manifestly playful, poking fun at politicians, exposing their frailty and mortality, reversing established hierarchies. Lenten carnivals such as Basel's famous Fassnacht, though not formally about death, often have a macabre element and are used by residents to remind political leaders of their vulnerability. Some XR actions resemble a medieval carnival in which anger at the political elite is playfully expressed - very different from the sanitised tourist/consumer events that the Day of the Dead, Halloween and Fassnacht have become.
Carnivalesque XR actions create a liminal space and time (Turner, 1969), a heterotopia (Foucault, 1984), in which participants (or 'rebels' as XR calls us) may temporarily experience communitas - the equality and justice of a new society. Some rebels returned home from the fortnight-long October 2019 London action speaking of how much they valued the connection with, and care from, other rebels who were total strangers. Rebel 7 (the online XR newsletter from the seventh day of this action) said of the actions, 'It's impossible to do justice to the hard work and love that goes into them, and the creativity, joy and community which result…  our actions this week have challenged mindsets, confronted systems and strengthened our movement with bonds of love and solidarity.' (my emphasis) Is this a first step toward a more communitarian, less harmful-to-the-planet society? Or is it egalitarian communitas, experienced in the carnival but never achievable permanently? And do rebels mistake the one for the other, imagining/hoping this is the start of a new society?
What, though, about those being inconvenienced by a blocked road preventing them getting to work? Is there not a contradiction between their inconvenience, and the joy and playfulness of those inconveniencing them? It is one thing to hold a festival heralding a new society, such as Burning Man, in the desert; it is something else to use it to prevent ordinary people to get to work to feed their family. Though playfulness may diffuse public anger, it might also prompt resentment that these protestors can play and dance while others need to work. For every police officer or bystander who enjoys witnessing the carnival, there are others who cannot take seriously protesters having a good time at others' expense.
When participating in XR actions, I myself have felt ambivalent about dancing and laughing while warning of impending eco-catastrophe, even when I receive positive thumbs-ups from passers-by – am I acting like a medieval jester telling truth through comedy, or like an insensitive doctor smiling while delivering a terminal diagnosis? Might a silent blockade, or a funeral march, communicate better? There is a long tradition of silent marches, as on the second anniversary of the Grenfell Tower fire in west London mourning the many who had died and protesting official incompetence. XR, however, argues that actions that inconvenience no-one are rarely effective. Ritualising death and loss in the service of social or political change has always involved both creativity and risk, and XR is no exception.
Acknowledgement is made to Mandy Robertson for her encouragement, observations and insights.
Tony Walter is a Emeritus Professor of Death Studies at the University of Bath who, among other things, participates in the climate protest group Extinction Rebellion