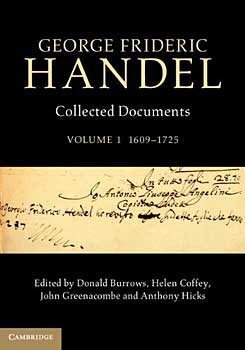 The project George Frideric Handel: Collected Documents began in 2007, funded by the Arts & Humanities Research Council (AHRC) and the Winton Dean Fund (administered by the Handel Institute). The results of the project will be published in five volumes by Cambridge University Press.
The career of George Frideric Handel has left behind a substantial documentary trail. His public performances in London were advertised in the newspapers; his activities were reported in private correspondence, and in the archives of courts and patrons; his musical scores are evidence for dates of composition, and for the composer's relationship with particular performers. His professional life in London, mainly involving Italian opera and English oratorio, spanned nearly 50 years, but there are also documents relating to his early career in Germany and Italy. The project's five volumes will bring together the texts of all known references from Handel's lifetime, taking into account much new material that has been discovered during the last 50 years.
The project is based at The Open University's London Regional Centre in Camden Town, with a team that includes some of Britain's foremost Handel scholars. Donald Burrows is the project leader, with Anthony Hicks (Research Fellow until 2010), Helen Coffey and John Greenacombe. Terence Best and David Kimbell have assisted with foreign-language documents.
For further information contact: 
helen.coffey@open.ac.uk