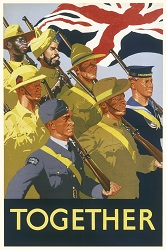 History is about more than just learning facts and dates. When we understand the past properly, we can make informed judgments about the present and the future. The discipline of history trains us to be analytical and think strategically about the consequences of our actions.
At The Open University, we communicate our passion for history through our research and our teaching, so that we can inspire others to study a subject that makes us better members of our civic, social and working communities.
Our teaching is highly rated by students, who have access to a wide range of inspiring teaching materials and regular contact with our expert tutors.
 
Our academics
History discipline members have strengths in the history of Britain and Europe from 1500 to the 1990s, but colleagues also carry out research on the histories of Africa, the Americas and beyond. Particular research groups examine the history of crime and policing, Empire and postcolonial studies, the history of medicine, Britain and Ireland since the 18th century, and war, conflict and politics in Europe.
 
Our research
We are engaged at the cutting edge of both history and interdisciplinary research. This is important because it feeds into the ways we design our teaching, so students get the benefit of our excellent research. We are pleased that 100% of our research was ranked as world-leading or internationally excellent for impact in the 2014 Research Excellence Framework.
History academics are involved in collaboration through research groups, and through large digital projects, including the Old Bailey Online, the History from Police Archives, and the World War One commemorative tool 1914-18 Online. Colleagues routinely act as consultants in television and film, especially with the BBC.
 
How we work with others
We also bring our research outside of the university, through a series of history lectures aimed at a public audience in person or online. This is part of The Open University mission to bring learning to all. The 2019 series includes the English Reformation, the European Union, and Celtic devolution.
 
Find out more:
Banner image: © Metropolitan Archives, City of London / Bridgeman Images; Inset image: © Mary Evans Picture Library / Onslow Auctions Limited