This presentation, led by Dr Rajiv Prabhakar, will be of interest to anyone engaged in problems of financial planning and management, social inclusion and deprivation, and strategies for recovery.
It is the first in a new monthly series organised by Economics at The Open University, aimed at bringing practitioners and researchers together to discuss new developments and challenges in a post-pandemic world.
These events are held online while coronavirus restrictions continue. Follow the seminar series for details of future events.
Register via Eventbrite  Attendance is free. This event will be recorded and be made available after the event.
Title: Financial Inclusion: Critique and Alternatives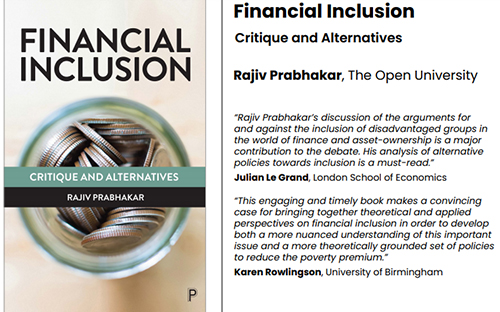 Abstract:
UK households were unequally prepared for the pandemic: Some had recovered quickly from the 2008 Global Financial Crisis, gaining from a decade of low interest rates and rising asset prices. For others, post-crisis austerity had meant job loss, pay restraint and cuts to public services. A year of coronavirus and double-dip recession has further widened the divide. Policymakers agree that an "inclusive" recovery is needed, but what does this mean for ordinary people and the ways they manage their money?
In Financial Inclusion: Critique and Alternatives (Policy Press, 2021) Rajiv Prabhakar examines all sides in the urgent debate over personal finance and national policy in a globalised financial system. What is the appropriate balance between personal responsibility, public provision and financial service competition? Can 'inclusion' ensure open the way to households' financial recovery and resilience? Or does it unfairly shift risks from policymakers and providers onto ordinary people, leading to more inequality and vulnerability?
Speaker:
Dr Rajiv Prabhakar is Senior Lecturer in Personal Finance at The Open University, and a Parliamentary Academic Fellow in the House of Commons Library (2021-2022). Rajiv has published extensive research on asset-based welfare, financial capability and basic income. He leads The Open University's new Economics degree (R30), contributes to modules including the highly successful You and your money (DB125), and is a Senior Fellow of the Higher Education Academy.
Discussants:
Professor Johnna Montgomerie is Head of the Department of European & International Studies & Professor of International Political Economy at King's College London. Johnna's latest book is Should we abolish household debts (2019, Polity Press).
Sian Williams is Director of Innovation and Policy at Toynbee Hall, a social reform charity in London's East End, where she leads work on ensuring people with lived experience of exclusion and hardship are directly involved in shaping better policy and practice solutions. Sian has also led Toynbee Hall's UK-wide financial inclusion and wellbeing work since 2009. She is a member of the Access to Cash Review Panel, the Link Consumer Council, the Pay.UK End User Council and the UK Finance Consumer Advisory Group. She is also Chair of the financial system and banking reform think tank, Positive Money, Vice-Chair of the Financial Inclusion Commission, and a Non-Exec Director of the Financial Inclusion Forum, a UK-based group sharing international learning on financial inclusion. Sian is currently working on setting up a UK pilot of a no interest loan scheme and supporting the industry to roll out Request to Pay, both tools aimed at supporting financial resilience for people on low and unpredictable incomes.