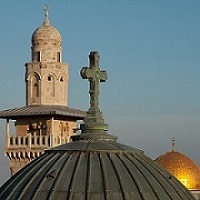 To understand the modern world, it is necessary to understand religion. Religion is at the heart of many issues we face today: extremism, climate change, race, gender and class. Our qualifications explore diverse religious practices, places, texts and experiences, as well as why religion can be so controversial.
Our approach to religious studies is viewing contemporary religion in historical perspective. We delve into religious activities and ideas from the past and present and look at how they relate to other aspects of social and cultural life to better understand the fundamental role religion has played, and continues to play, in shaping the world.
 
Our academics
Our religious studies department is comprised of historians, ethnographers and sociologists of religion, with each bringing their own unique perspective to the subject. This allows us a 360 degree view of religion. Our academics have a broad range of specialisms, from the relationship between religion and social development in India to Indigenous rituals and cultural performances.
 
Our research
Our academic team undertakes cutting-edge research on a range of topics. Our current major research projects are Religious Tolerance and Peace, promoting religious peace and tolerance through history, and Pilgrimage and England's Cathedrals: Past and Present, which considers what pilgrimage is and why it matters.
 
How we work with others
Many members of our department hold leadership roles in national and international scholarly associations, including the Ecclesiastical History Society, the British Association for the Study of Religions, the European Association for the Study of Religions, the Folklore Society and TRS UK.
 
Find out more
Banner image: Dan Kitwood / Getty Images; Inset image: robertharding / Alamy