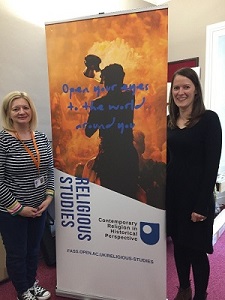 Religious Studies at The Open University has an active program of outreach with schools, and more broadly in promoting religious literacy.
With our approach of of focusing on contemporary religion as it is lived, but with keen eye on the broader historical perspective, we are committed to communicating the importance of religion in understanding today's world.
We have a wide range of expertise and have colleagues spread out across the UK, so it you would like to organise a classroom visit, in person or online, drop us an email at fass.religiousstudies-enquiries@open.ac.uk
Schools
We have a wide range of material which can be used in classroom settings to support your teaching. Click the Teaching Materials (or select from the menu on the right) for videos, podcasts and activities introducing on religion in the modern world.
There's lots more material and discussion on our topical blog, Contemporary Religion in Historical Perspective, our Twitter, Facebook and Instagram pages.
To help you explore all our resources, and find them all easily, we have created a handy, interactive Prezi, which you can use in the classroom.
Religious Literacy
We believe that a good understanding of religious traditions and identities - and what people actually think and believe rather than what we assume they do - is important to the flourishing of society. This kind of religious literacy has significant social capital, is relevant to specific professions - teaching, health and social care, or journalism and many others.
If you want to start exploring the ways in which religion affects personal and political decision-making, you can sign up for our MOOC Why Religion Matters: Religious Literacy, Culture and Diversity.
Several members of our department are involved with managing the independent charity Inform, which provides information about minority religions and sects which is as accurate, up-to-date and as evidence-based as possible. Inform exists prevent harm based on misinformation by bringing the insights and methods of academic research into the public domain. Inform acts as a unique bridge between academic expertise and practical application and can provide bespoke reports and speakers for the media, professionals and schools on a wide variety of topics relating to minority religious (and non-religious) groups.