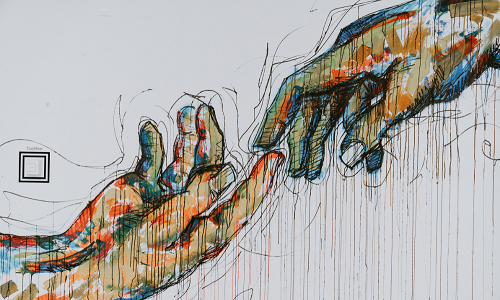 The Open University was founded on the principle of being open to people, places, methods and ideas, and it's this mission that continues to inform Outreach and External Engagement within the School of Arts & Humanities.
Developing strong partnerships maximises the potential impact of our research and our research-led teaching, creating accessible opportunities with global reach. Our unique, academic relationship with the BBC has led to many award-winning co-productions and linked learning journeys offering free educational opportunities, and we enjoy long-standing relationships with many public institutions, schools and FE colleges.
Every one of our strategic partnerships and progressive engagement opportunities highlights our dedication to making a difference and we're proud of our academic involvement in a wide range of external engagement activities.
Much of our outreach and external engagement work is discipline-based, as can be explored below, on our discipline webpages, and also on our Research Impact and Public Engagement page. The commitment of the Arts & Humanities team across the Four Nations to outreach and external engagement can also be explored below.
We encourage collective and collaborative projects inside and outside the OU, leading to a range of partnerships, such as those with the Prisoners' Education Trust; the Howard League for Penal Reform; and the National Justice Museum, via Dr Ros Crone's successful AHRC bids on the history of prison education. We have built a close working relationship with History & Policy, an umbrella organisation which connects historians with policymakers, leading to collaboration with the Home Office via a seminar series for Whitehall civil servants organised by Dr Chris Williams.
In the last few years, we have worked with the production teams for BBC programmes which have attracted over 55 million viewers in total, as well as creating associated learning resources. These include: Blitz: The Bombs that changed Britain; Full Steam Ahead; Britain's Great War; Icons; Dangerous Borders. A Journey across India and Pakistan; and Art That Made Us.
We enjoy a successful relationship with the Trinity Laban Conservatoire of Music and Dance, offering a 60 credit practical music module, The Practice of Music Making, which gives students the chance to receive expert tuition in the creation of music.
We're proud too, of our academic partnership with the Orchestra of the Age of the Enlightenment (OAE), one of the UK's leading professional ensembles.
We take our knowledge into many and varied areas, such as the project Tinnitus, Auditory Knowledge and the Arts which is developing tools and resources for the British Tinnitus Association's support groups in collaboration with the Oxfordshire Visual Arts Development Agency.
Our academic input into the design and production process of a number of BBC television and radio co-productions has been invaluable, including that for A History of Music and Technology (BBC Radio 6 Music 2019).
We're dedicated to making Classical Studies accessible to all, and particularly proud of our Schools Outreach Programme and the associated resources we've developed. A lot of our learning collateral can be found on our Taster Materials page; although designed for university teaching, many of the resources are useful in GCSE and A Level classrooms.
Classical Studies is home to The Baron Thyssen Centre for the Study of Ancient Material Religion, which supports cross-disciplinary work on the material, visual, and other sensory aspects of Greek, Roman and Etruscan religions. We host the Classical Reception Studies Network, bringing together others who share our interest in researching and teaching classical receptions.
We have long-championed the cause to highlight Art History as a subject for the many, rather than an elite few. Our outreach activities take varied forms from public engagement and BBC co-productions to open access resources and knowledge exchange with schools. Working with Pearson and the National Extension College, our Open Arts Objects project has over 50 open access films that are used in the teaching of Art History at A-level.
Drawing on our research expertise in visual and material cultures, Art History academics also advise on OU/BBC productions, including Civilisations (a series exploring the visual culture of societies around the globe) and Secrets of the Museum (a series venturing behind the scenes at the Victoria and Albert museum of art, design and performance).
We're committed to a multi-disciplinary approach that continues to lead to varied and interesting opportunities for outreach and external engagement. Colleagues from the English department enjoy successful relationships with a variety of partners including the Knowledge Media Institute, humanities festivals such as Being Human; Belfast Imagine! Festival of Politics and Ideas, the Cambridge Science Festival; cultural organisations such as Scottish Book Trust, Institute of English Studies, The Cowper & Newton Museum, Verbal Arts Centre; interdisciplinary partners Theatre Without Borders, and the Insight Centre; educators such as The Brilliant Club, and charities such as The Reader.
Our English and Creative Writing free courses, offered through our popular platforms OpenLearn and FutureLearn are perennial favourites and amongst the most popular offered by The Open University, and we have contributed to the success of many BBC co-productions, thanks to our unique relationship, including Write Around the World with Richard E. Grant.
Four Nations
The Arts & Humanities team across the Four Nations is also committed to outreach and external engagement. The team based at The Open University in Ireland have a long-established partnership with the John Hewitt International Summer School, and have recently launched a suite of online professional development sessions aimed at Creative Writing freelancers who lost face-to-face teaching opportunities due to the Covid-19 pandemic. In Wales, projects include BG REACH (Blaenau Gwent Residents Engaging in Arts, Culture and Heritage), a UKRI funded community engagement and research project supporting residents of Blaenau Gwent to produce creative reflections on the history of their local area. In Scotland, the team is working with the STUC (Scottish Trades Union Congress) on the 'Women and Workplace Struggles in Scotland c. 1900-2020 project'. In England, the Arts & Humanities team are working with the WEA (Workers' Educational Association) in providing innovative lectures on the Arts and Humanities.