Students who complete our MA go on to pursue interesting careers in art history and related fields. Some of our students have been accepted into PhD programmes, receiving prestigious awards and funding for their doctoral studies, while others work in the education sector or for heritage institutions. Many students stay in contact after completing the MA, establishing important networks across the country and even the globe. Our alumni arrange informal museum and exhibition visits as well as networking events.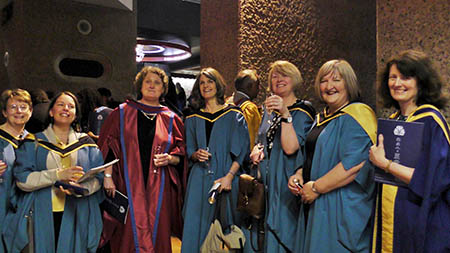 Recent success stories include:
Allan Norris received CHASE doctoral funding for his PhD at The Open University 'On Figuration in the Work of Post-Conceptual British Women Painters'. Having completed his Masters at The Open University with Distinction, he enrolled on the PhD programme in 2018. His research sets out to explore the extent to which contemporary figurative painting, engaged in by women, can operate as institutional critique or challenge the objectification of the female body. The study will examine and reassess existing art historical debates and scholarship to create a more cohesive and comprehensive picture of the critical position of contemporary painting by women. It will analyse the extent to which the relationship between painting and representation serves to construct, support or subvert prevailing hegemonic structures such as the institutions of art and the art market. In so doing it will explore issues such as the appropriation of art historical tradition, the commodification of feminist art, and how the feminist critique of modernism has enabled certain interventions to flourish, through their perceived questioning of a hitherto male dominated canon.
Mark Fearbunce obtained his MA in Art History in 2018; you can read about his experiences of the MA and its impact on his own teaching career. Mark has recently taken up a new post as Course Leader for BA (Hons) Fine Art at University Centre, Somerset (UK). He continues to be involved with initiatives set by the department of Art History around the teaching of global art history.
Isabel Alexander received an AHRC collaborative doctoral award for her PhD 'Immersive Images: 1820-1920' at the University of Exeter in collaboration with the Bill Douglas Cinema Museum. This project will examine the wide range of visual formats and devices offering an 'immersive' experience in the period 1820-1920, and will consider how such experiences relied on both suspension of disbelief and embodied spectatorship.
Dawn Kanter has received funding from the Open-Oxford-Cambridge consortium to undertake doctoral research at The Open University on British portraiture 1900-1950 through the experience of the portrait sitting. Her project is an interdisciplinary one between art history and digital humanities.
Amanda Stevens received an AHRC collaborative doctoral award for her PhD research 'Home on the Rails, the design, fitting and decoration of train interiors in Britain c1920-1955.' This will be undertaken with National Railway Museum and The Open University.
Carolyn Kerr received CHASE doctoral funding for her PhD at The Open University 'Performance, Seduction, Subversion: The Masquerade as spectacle and image in Second Empire Paris (1848-1870)'.
Katie Ault's MA thesis was shortlisted for the For Art History Dissertation Prize, and she has also recently received CHASE funding for her PhD at The Open University on 'Material on the move: fourteenth-century Italian paintings in nineteenth-century Britain'.