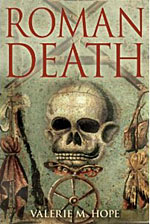 Our research covers a wide range of topics and showcases the diversity that classical studies has to offer. We are proud of our success in producing research on traditional literary, archaeological, and historical topics, while we also plays a leading role in shaping new and inter-disciplinary fields such as digital humanities and receptions of classical antiquity. The Classical Studies discipline fosters an ambitious and supportive research culture, and encourages collaborations within the OU and beyond. Members of the discipline regularly organise international conferences, and have been engaged on major collaborative projects.
Research projects
Journals
The Classical Studies at the OU produces two open-access journals:
Practitioners' Voices in Classical Reception Studies is a forum in which creative practitioners (including theatre directors, actors, poets, translators, artists, architects, composers, choreographers and others) can discuss the relationship between their work and the classical texts, themes and contexts on which they draw.
 New Voices in Classical Reception Studies  is a peer-reviewed journal which publishes the work of new scholars investigating issues of reception of classical texts, ideas, performance, and material culture across different cultural contexts and in different media.
Staff research interests
For details of staff research interests, see individuals' web pages.